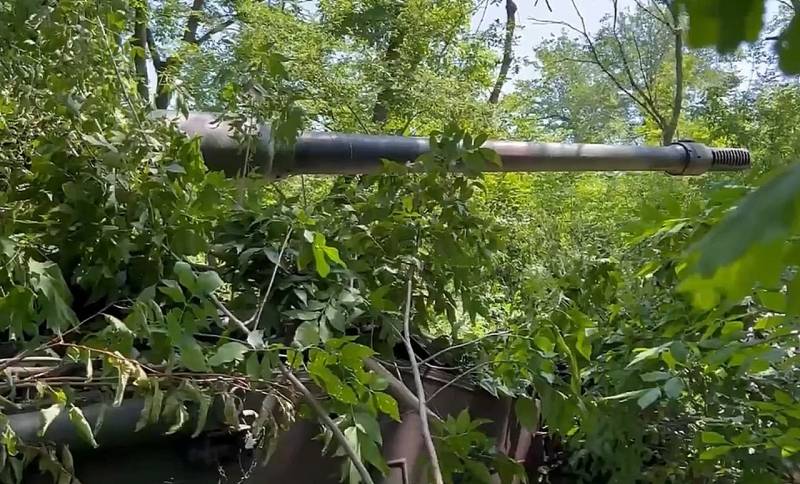 A video appeared on social networks, indicating the presence of German PzH 2000 howitzers in the Armed Forces of Ukraine, which were sent to Donbass.
The gun in the video is covered with green paint for safety reasons.
Earlier it was reported about the delivery of seven such guns to Ukraine from the stocks of the army of the Netherlands, where about four dozen of them remained. The accelerated training program for gunners under the command of the NATO military involved specialists with experience in combat
technique
times of the USSR.
German self-propelled guns have a caliber of 155 mm and are capable of operating at a distance of 30 to 40 kilometers. The disadvantage of howitzers is considered to be their heavy weight (about 55 tons) and large dimensions, which makes it difficult to camouflage.
Along with the PzH 2000, the Ukrainian armed forces also received French Caesar howitzers. However, the latter are inferior to German artillery installations in terms of security characteristics: in Caesar, the crew operates openly, while in PzH 2000 it is protected by armor.
In addition, it is possible to install a container for dynamic anti-cumulative protection on the turret of a German howitzer.
Meanwhile, Kyiv continues to accuse the West of insufficient military support. However, NATO Deputy Secretary General Mircea Dan Geoana said on June 27 in an interview with the European Pravda resource that the priority of the North Atlantic Alliance is the protection of a billion people living in NATO countries. In this regard, the Western bloc is not looking for pretexts for war with Russia.