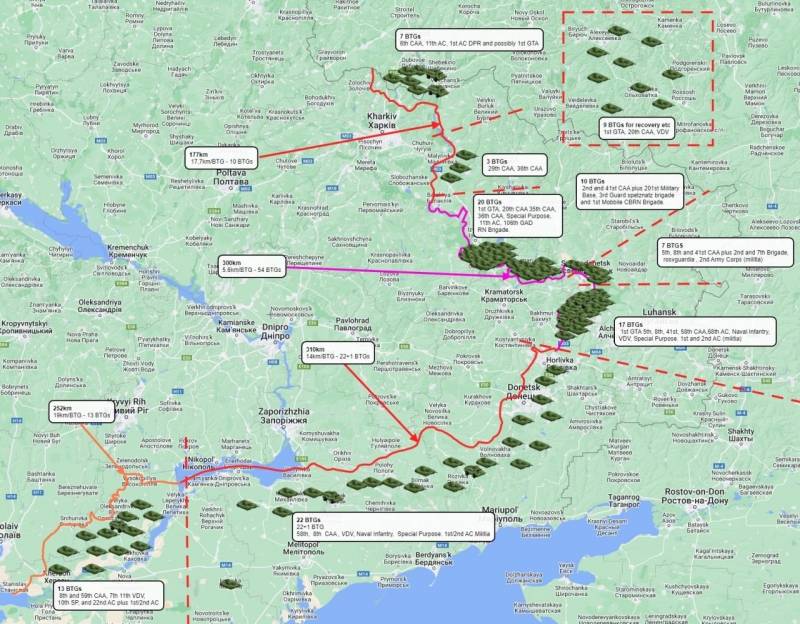 Western analysts have shown a map showing units of the Russian armed forces taking part in a special operation in Ukraine.
The largest number of troops of the RF Armed Forces is concentrated in the Bakhmut and Izyum directions, which allows the Russian side to move forward in this sector of hostilities.
According to the map, there are 10 battalion tactical groups (BTG) on the Kharkov front. One group accounts for 17,7 km of the front.
There are 54 BTGs on the Izyum-Severodonetsk-Popasnaya section, each of which controls 5,6 km of the front line.
There are 22 + 1 BTGs on the Gorlovka-Donetsk-Zaporozhye line, 14 km of the front falls on one group.
In the Kherson area - 13 BTG, each controls 19 km of the front line.
Meanwhile, according to the information of the Russian defense department, on June 26, the Russian Armed Forces destroyed 10 platoons of Ukrainian multiple launch rocket systems, as well as 3 training centers of the Armed Forces of Ukraine in the Chernihiv, Lvov and Zhytomyr regions with high-precision weapons and Kalibr missiles.
Earlier, Defense Minister Sergei Shoigu personally inspected the troops involved in the Ukrainian special operation. At the command posts, the minister listened to the reports of the commanders on the current situation and combat operations in the main directions.