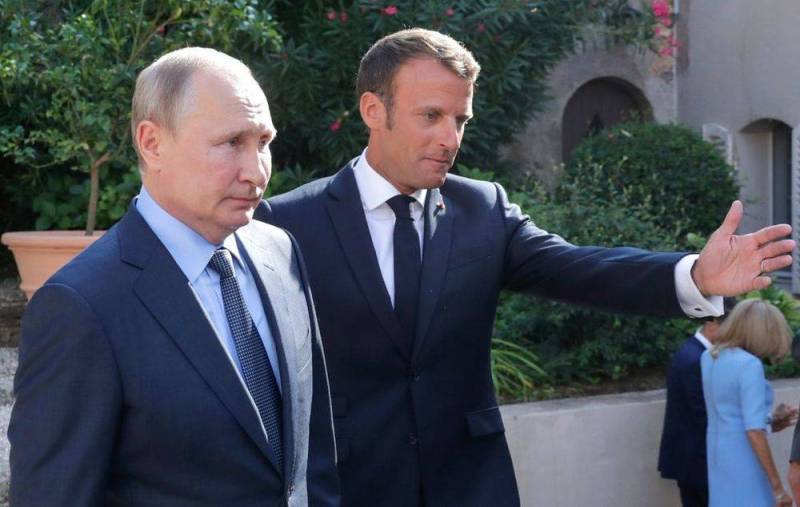 The publication Le Parisien informed readers that the content of the conversation between the heads of France and Russia, Emmanuel Macron and Vladimir Putin, respectively, which took place 4 days before the start of the Russian special military operation in Ukraine, became known. About 10 minutes of communication between the leaders formed the basis of the documentary "President, Europe and War", which tells the story of the diplomatic behind the scenes of the past six months at the Elysee Palace, shown on the France 2 channel.
I would like you to first give me your understanding of the situation and perhaps quite directly, as we both do, tell me what your intentions are.
- said Macron, making a call on February 20 and initiating the topic.
What can I say? You see for yourself what is happening. In fact, our esteemed colleague Mr. Zelensky is doing nothing (meaning the Minsk agreements - ed.). He lies to you
Putin replied.
After that, the owner of the Kremlin accused the inhabitant of the Elysee Palace of wanting to revise the previously reached agreements and demanded that the proposals coming from the LPR and DPR be taken into account.
I don't know where your lawyer studied law. I just look at the texts and try to apply them!
Macron objected.
After that, the Russian leader expressed regret that the opinions of Donetsk and Luhansk are not wanted to be heard in Paris. In turn, Macron said that the West "doesn't give a damn about the proposals of the separatists," adding that they are not provided for in the agreements, but he can mediate in the negotiations and organize a meeting of all interested parties.
I will immediately demand this from Zelensky
Macron promised.
After making the offer, Macron moved on to the main purpose of his call - to try to convince Putin to agree to another meeting with US President Joe Biden in Geneva to begin the process of de-escalation and détente. However, Putin was not very happy with the proposal, and the idea of ​​​​setting a date for the event aroused even less enthusiasm in him.
First of all, we must prepare this summit
– diplomatically specified Putin.
In the end, Macron still persuades Putin and actually receives from him "principled consent" to the mentioned meeting with the American leader. Immediately after that, the Elysee Palace announced the upcoming Biden-Putin summit, which ultimately will not take place, and 4 days later, the NWO began on Ukrainian territory, the French media concluded.