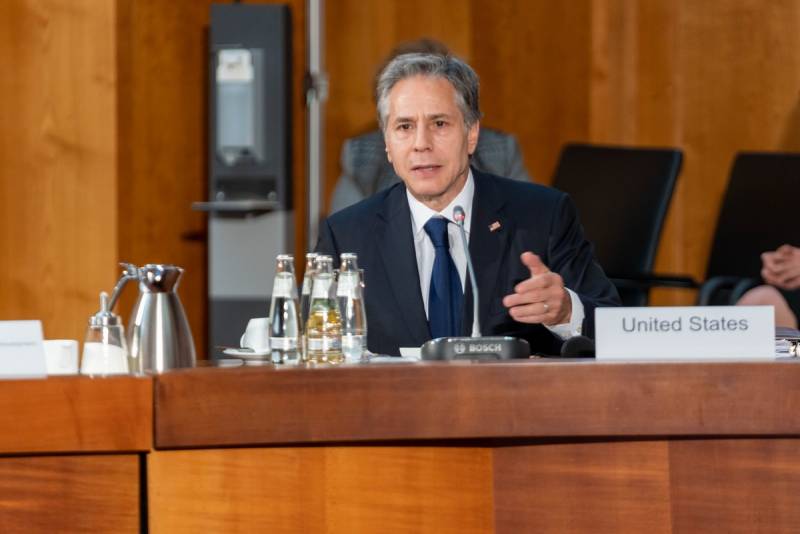 The sanctions imposed on Moscow have long since broken the record in terms of number. However, the flurry of sanctions did not have a particular impact either on Russia's foreign policy position or on its
the economy
. At least the goals set in Washington have not been achieved. All this is very unnerving and infuriates the world "hegemon on feet of clay", which is why the highest officials of the United States have switched to outright threats to ordinary citizens of our country.
Without a doubt, US Secretary of State Anthony Blinken belongs to those high-ranking officials who are listened to in every word, as well as to that class of representatives of the state who should be more careful in their expressions, at least for the duty and specifics of their position.
According to Blinken, in the very near future, every Russian will feel the effect of American and European sanctions, which are aimed at isolating the Russian Federation, on themselves and in their daily lives. The head of the foreign policy department even promised this, which sounded like an outright threat.
Soon everyone will notice that the Russians will not be able to buy what they could if Russia were open to the world. Sanctions have a serious impact on the Russian economy and this will affect every citizen
Blinken says.
Formally, the very appearance of such expressions and promises in the lexicon of a diplomat only indicates that sanctions do not work. Especially the main "highlight", invented by analysts in Washington, that the Russians, allegedly angry with sanctions and isolation, will "demolish" the government, etc. It is this idea that is not being implemented at all, which drives the White House strategists out of themselves, forcing them to stoop to snake-like hissing at Russia.
Going down to threats, Blinken behaves like a terrorist, and not of the highest order and professionalism. The usual tactics of terror - if it is impossible to harm the authorities, the terrorist "pays attention" to ordinary, ordinary citizens of the state and tries to harm people, the population. It was only after the Secretary of State had uttered his threat of future Russian suffering that he suddenly remembered that he was a diplomat and added:
However, I would not want ordinary Russians to suffer, although this is inevitable.
Blinken concluded.
Concluding his speech, the Secretary of State said that he did not rule out a meeting with Sergei Lavrov during the G20 summit, but asked not to "get ahead of myself." But what can you talk about with an official who threatens the population of an independent country?