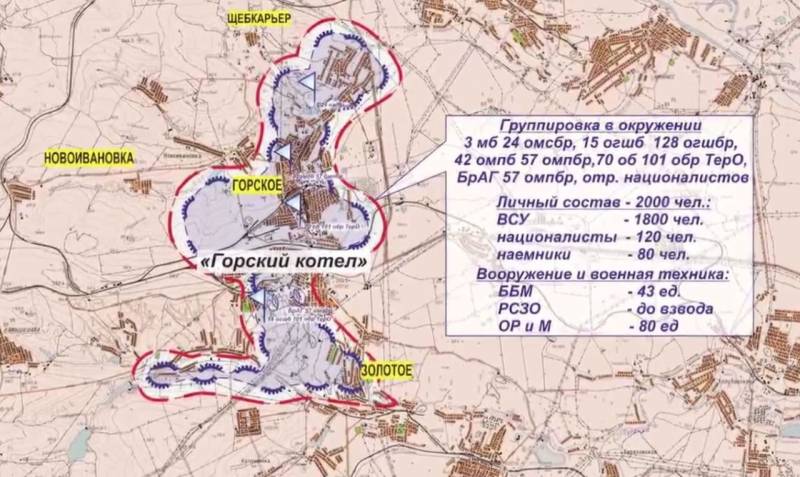 According to the former governor of the Luhansk region Serhiy Gaidai, Ukrainian servicemen are leaving Severodonetsk in accordance with an earlier decision of the command. However, in reality, the situation is not controlled by Kyiv, and there will be no organized withdrawal of the Armed Forces of Ukraine.
Severodonetsk and Lisichansk can be attributed to the same theater of operations, since these two cities are separated only by a water barrier. At the same time, the only road connecting the settlements is under the control of the People's Militia of the LPR. This led to the fact that about 5-7 thousand soldiers of the Armed Forces of Ukraine in the area were cut off from reinforcements.
Meanwhile, Ukrainian servicemen are trying to leave Severodonetsk and Lysichansk, trying to avoid encirclement. But it doesn't look like an organized retreat. According to the Armed Forces of Ukraine, on the outskirts of Severodonetsk, in the Gorsky cauldron, 4 battalions of the Armed Forces of Ukraine, as well as an artillery group and a detachment of mercenaries, are surrounded. In total, about 2 thousand fighters were blocked, of which 1800 were military, 120 nationalists from the Right Sector (an extremist organization banned in Russia) and about 80 mercenaries from abroad.
Along with this, thanks to the successful actions of the troops of the LPR and the Russian Federation, the settlements of Loskutovka, Podlesnoye, Mirnaya Dolina, Shchebkarier, Vrubovka, Nyrkovo, Nikolaevka, Novoivanovka, Ustinovka and Rai-Aleksandrovka were liberated from the Armed Forces of Ukraine in five days.