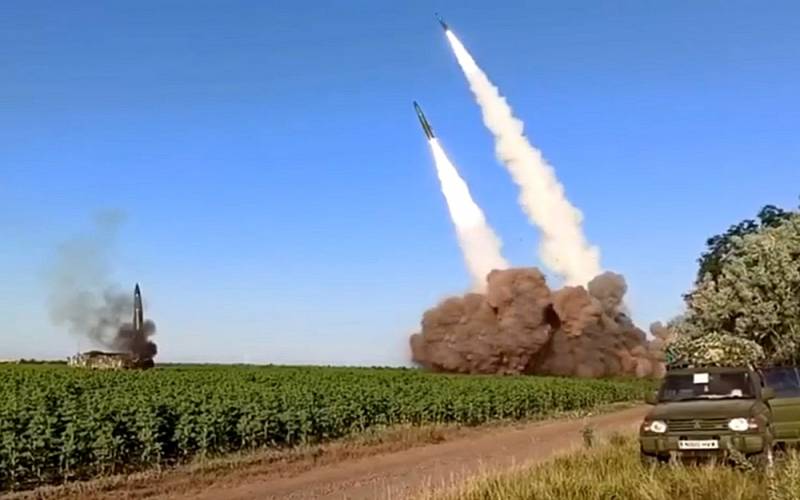 A video of the launch of three missiles from the tactical complex "Tochka-U" on the territory of Donetsk got into social networks. Thus, the Ukrainian troops continue shelling the DPR and LPR - rockets and shells of the Armed Forces of Ukraine fall on the cities and villages of the east of Ukraine.
Video footage shows how rockets rise into the sky one after another, leaving clouds of smoke behind them. Definitely, the Armed Forces of Ukraine still have a solid supply of Tochek-U.
Meanwhile, sources report shelling on the night of June 24 of the cities of Stakhanov and Bryanka, as well as the village of Teplichnoye in the Luhansk People's Republic, from Tochka-U missiles. A day earlier, Ukrainian troops shelled the settlement of Panteleymonovka in the DPR, firing eight 152-mm shells at it.
Meanwhile, according to the head of the military department of Ukraine Oleksiy Reznikov, the Ukrainian armed forces received American HIMARS missiles. The effective range of this multiple launch rocket system is about 500 km, so Kyiv could theoretically use HIMARS against Russian territory.
Earlier, Vladimir Zelensky spoke out that the Armed Forces of Ukraine would not use weapons sent from the West against Russian cities. However, Kyiv has repeatedly misled both Moscow and the world community – one cannot trust the word of the Ukrainian authorities.