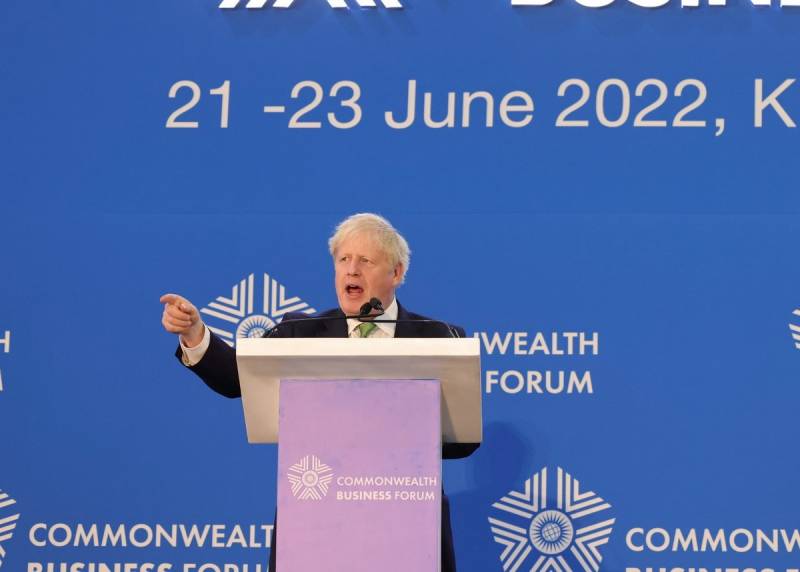 The United States succeeded in sowing discord in Europe. The separation of the countries of the Old World has never been so obvious. It's not just Brexit
economic
aspect), but also in ideology, and
policy
. The UK is no longer part of Europe, an integral part of it, promoting rather an overseas agenda, quite different from the concept proposed by France and Germany.
While Paris and Berlin are trying in vain to persuade Kyiv to at least some semblance of a compromise solution to the conflict with Moscow, London is frankly calling for "fight to the end", since "any world" is bad now. British Prime Minister Boris Johnson speaks directly about this in his address to representatives of the G7 and NATO states.
According to the head of the British government, any peace, a peace agreement will be an indulgence to Moscow, especially if it comes to territorial concessions. In fact, with his statement, Johnson confirmed the request of French President Emmanuel Macron and German Chancellor Olaf Scholz to the head of Ukraine, Vladimir Zelensky, to sit down at the negotiating table with the Russian Federation under a number of conditions. And it was precisely with the denial of this initiative that Johnson came out, calling for the cancellation of the proposal from some EU countries for Kyiv.
Johnson allowed himself to make a controversial statement by driving away from Europe, to Rwanda, where he is on an official visit (and where he is not averse to exiling illegal Ukrainians).
My message to the G7 and NATO allies will be simple: Ukrainians should not be forced to agree to a bad peace, that is, a situation where they give away pieces of the country in exchange for a ceasefire. It will be a disaster
Johnson urged during a speech at a forum in Kigali, Rwanda.
The head of the British government, which has become a "lawyer" of Washington's interests in Europe, most likely does not know the proverb that a bad peace is better than a "good" war. However, the situation may soon demonstrate all its deep meaning in practice. Ukraine should have agreed to the loss of a smaller "piece" before, as a result of the use of military "diplomacy" at the front, it will have to come to terms with the loss of half or more territories. Moreover, after the territorial issue is decided by the armed forces, there is no turning back.
But it is very likely that in Ukraine they will still listen to the advice of their new close friend in the person of Boris Johnson, especially since the supply of Western weapons fuels Kyiv's self-confidence. Therefore, further escalation will obviously not be avoided.