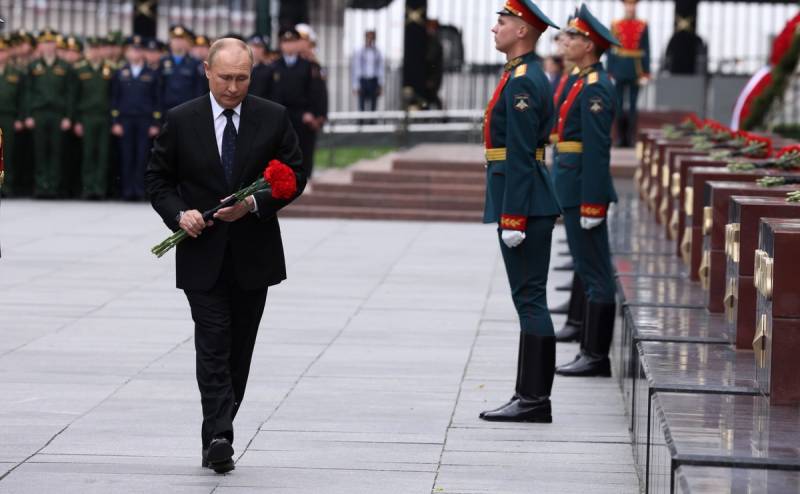 There should be no more illusions in Russia about a Europe where Moscow was wrong. The "great turning point" has come, it is designed to show the head of the Russian Federation, Vladimir Putin, that he was wrong about the West, considering it toothless. Thomas Jaeger, a professor at the University of Cologne, writes about this in his article for the German edition of Focus.
As a well-known political expert notes, the driving force behind Vladimir Putin's actions is a historic event that the Russian president calls "the greatest geopolitical catastrophe of the XNUMXth century", that is, the collapse of the Soviet Union. This geopolitical shift in world history was analyzed not only in the United States or China, but also in Russia itself, and not only to prevent it in the modern version, but also to reverse the consequences of the collapse.
Putin begins to win back the lost. And the fact that the leader of Russia has recently identified himself with Tsar Peter the Great only confirms this assumption.
Yager is sure.
The Soviet Union fell without serious resistance, and looking at Russian history, Putin may have concluded that the real reason for the collapse of the empire was a lack of will to use superior force. From here, obviously, comes an important task - protecting the integrity and strength of the country at any cost: that is why the use of military force and coercion has become quite logical for Putin, the expert believes.
From this point of view, the lesson of recent Russian-Soviet history is that in revolutions, wars and upheavals, those who used the most ruthless and brutal force won, and those who shied away from using it lost states.
- writes an expert.
According to Yager, nuclear weapons are the only means of force left to Russia. However, the hypothetical application or the onset of a critical moment for its application will mean that Russia has reached the peak of escalation and it is no longer possible to further increase the degree of confrontation.
In order to somehow justify the use of the most severe methods, both in internal and external
policy
, Putin adheres to the motto "it's time to fight back." In other words, such a slogan emphasizes the nature of the response to historical challenges. Although, of course, Yager himself directly hints that the Kremlin "always attacked" first in recent history.
In any case, the assertion that the preservation of the empire justifies any of its own sacrifices, as well as the suffering of other people and peoples, is firmly rooted in the Russian Federation, Yager believes. Unfortunately, this logic also applies to the current attempt to restore the Russian Empire, the expert concluded.