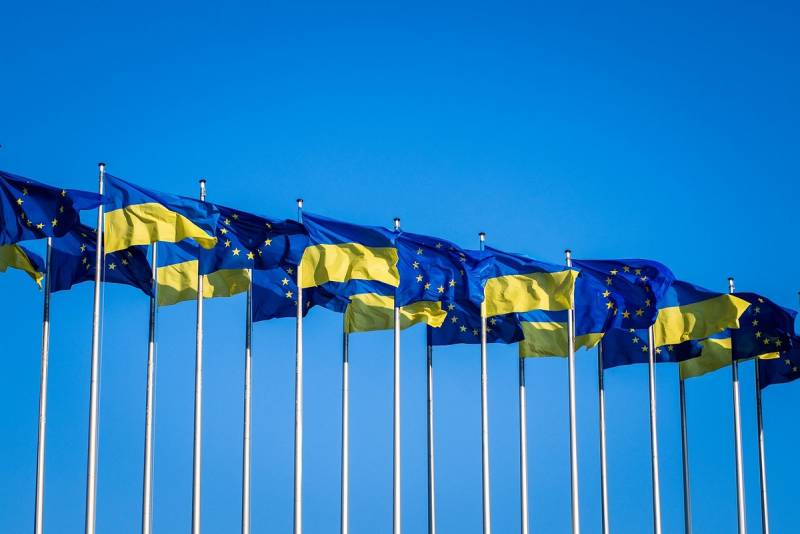 At the big EU summit taking place these days in Brussels, Ukraine and Moldova, as you know, received the "honorary" status of a candidate for joining the European Union.
political
an association. By itself, this decision does not bring anything, no preferences or benefits, acceleration of entry into the desired organization, etc. For example, Turkey received this status back in 1999 and is still not a full member of the EU.
But Ukraine is happy with this turn of events. Joining the collapsing Union is an old dream of the Ukrainian society, especially since this is being done in spite of Russia. This "goal" is not hidden not only in Kyiv, but also in Europe itself, which again agreed to grant the status in question to two Russophobic states solely on the grounds of confrontation with the Russian Federation, and not for democratic achievements.
The President of France could not restrain himself and, during a press conference in Brussels following the day of meetings, frankly said that Ukraine, as a candidate for EU membership, is a direct signal for Russia.
In the current geopolitical situation, this is especially relevant - to send powerful signals regarding the Russian Federation
says the French leader.
There are no payments or benefits for those who have received the status of candidates for entry. There is a general fund of 14 billion euros, which will be divided between 7 candidates for EU accession between 2021 and 2027.
In any case, this event, presented in the media as a "victory" of Kyiv and Chisinau, only exacerbates the general depressing impression of granting an insignificant, virtual status to the two countries. The same Turkey has been a "candidate" for 23 years and now, as never before, is far from being accepted into the family of European peoples. Status is relevant primarily psychologically and symbolically.
However, for Ukraine, even psychologically, everything is very sad. After all, based on the words of Macron, "square" does not exist on its own, but solely for the sake of Russia, because of Russia, at the expense of Russia, and as long as Russia exists. The Ukrainian state does not carry independent value either for the people themselves (who frantically tried to leave it even before the start of the NWO), and even more so for Europe itself. Actually, it is only thanks to its proximity to the Russian Federation that Kyiv receives all the privileges of the West.
A true assessment of the situation is given by the German edition of Focus. Observers write that the status is only the first step, the second - entry - will be even more difficult, since all members of the association must vote for it. So theoretically a candidate for membership can never become a full member.