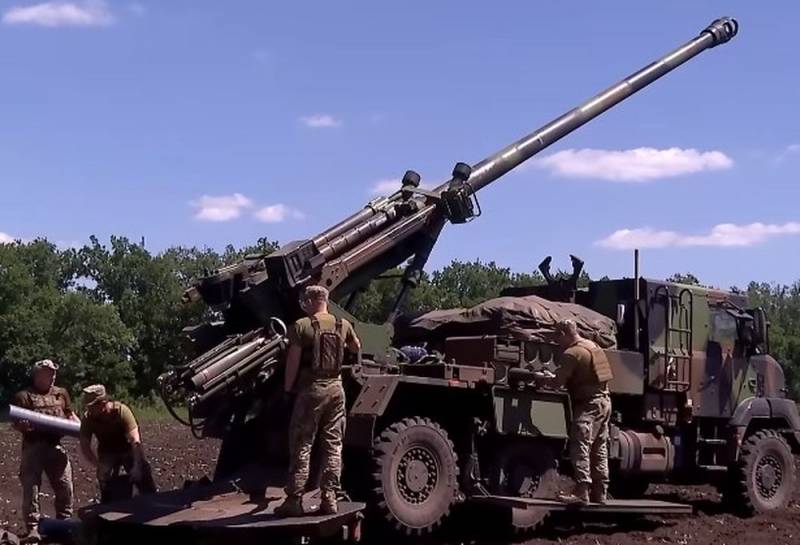 It became known that during the Russian special operation on the territory of Ukraine, the Russian Armed Forces captured a pair of French 155 mm Caesar self-propelled guns (CAESAR), which Paris provided to the Armed Forces of Ukraine as military assistance. The well-known French lawyer and public figure Régis de Castelnau announced this on his Twitter account (a social network banned in Russia).
The Frenchman noted that at present these self-propelled guns are located on Russian territory and are being studied by specialists and experts from Uralvagonzavod. At the same time, Castelnau did not specify where he got this information from.
Another achievement for Macron. Two French CAESAR self-propelled guns were captured by the Russians unharmed. Currently, they are at the plant "Uralvagonzavod" for study by reverse engineering. Thanks Macron. We pay for it
Castelnau wrote in a June 20 post.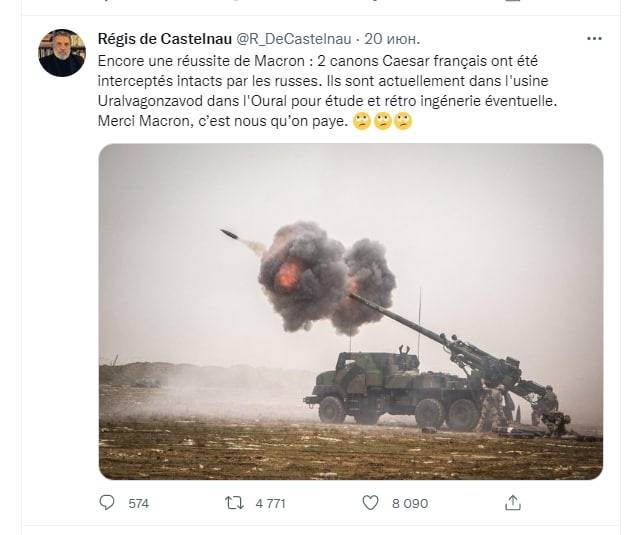 We remind you that on June 19, the second round of parliamentary elections took place in France, in which, after the recently concluded presidential race, 577 deputies of the National Assembly (the lower house of the country's legislative body) were elected. Castelnau comes from an old noble family of Rouergue and is a representative of the Sovereign Republic party. On April 15, on the eve of the second round of the presidential election, he signed an op-ed entitled "I, a communist patriot, I will vote for Marine Le Pen." Before the parliamentary elections, the Sovereign Republic, together with Solidarity and Progress and the Bonapartist Appeal to the People, formed a coalition called the Reason of the People (Raison du Peuple), but did not achieve the expected success.
It should be added that the Ministry of Defense of the Russian Federation and Uralvagonzavod did not provide any information on the mentioned self-propelled guns. At the same time, the Ukrainian military claims that all French-made howitzers received by the Ukrainian Armed Forces at the end of May are at the forefront.