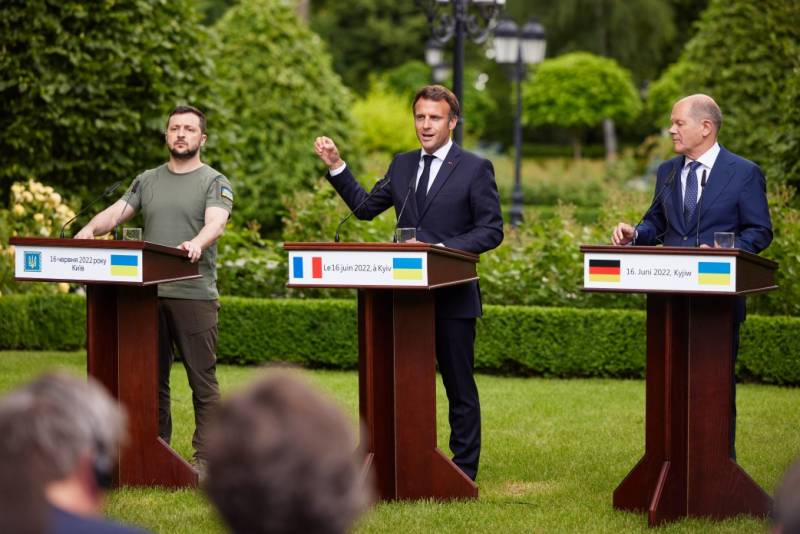 The enthusiasm and cohesion of the anti-Russian coalition of Western countries began to fade. The holistic solidarity of the states of Europe and the United States cost both partners too dearly. Crises in
the economy
and inflation is forced behind the scenes, slowly, backing away back in the confrontation with Russia. According to The Spectator columnist Andrew Tettenborn, France and Germany were the first to "give up" the nerves, which did everything they could to be exemplary allies of the United States and at the same time resolve the crisis in Ukraine. But the internal agenda outweighed all other arguments, and Paris and Berlin are withdrawing from active participation in the affairs of the "Square".
Therefore, it is not surprising that the two most important members of the EU decided to distance themselves from the conflict in Ukraine, leaving Kyiv alone with Russia. The effort to bring Bankovaya and the Kremlin to the negotiating table to find a compromise has not been successful.
Frankly, such a decision means that Ukraine itself will have to try to negotiate the most acceptable terms possible.
the reviewer explains.
In his opinion, such a turn of events may indicate a serious split in the unity of European states on the issue of attitudes towards the Russian-Ukrainian crisis. As Tettenborn writes, the position of Paris and Berlin is justified. The lack of "enthusiasm" of some EU members is due to the fact that support for Ukraine has become too costly in every sense, threatening an inevitable escalation of the situation in Europe itself.
Therefore, making a difficult choice between what is "fair" and "peace", the leading powers of the EU have chosen the latter
writes a British observer.
The expert analyzes the initial alignment of forces in Europe, pointing to the growing influence of Poland and the Baltic states. All this will not benefit either the cause of conflict resolution, or the parties involved in it, or the EU itself.
At the same time, Tettenborn did not notice a competing trend, the momentum of which comes from across the ocean. The place of France and Germany in the negotiations after their unsuccessful attempt to influence Kyiv on June 16 is taken by London as the European representative of Washington. Thus, if the reports of The Spectator about the desire of Paris and Berlin to retreat are correct, then the initiative passes to the "party" of the war, which should be expected to escalate.