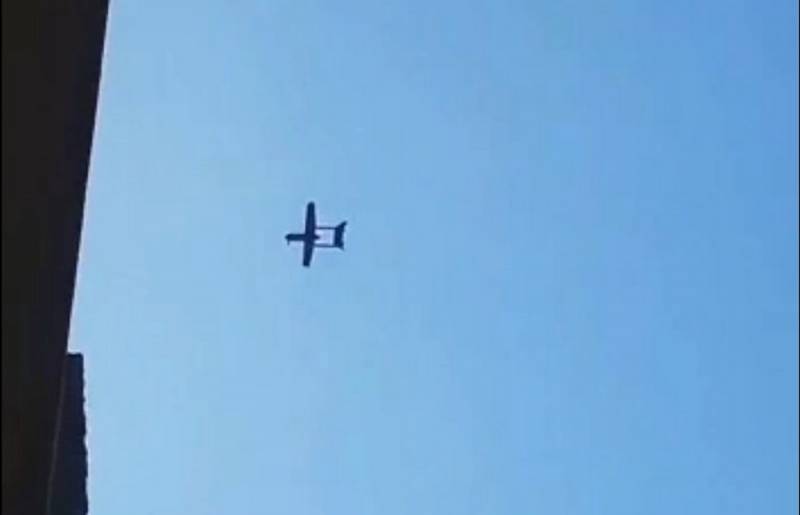 A Ukrainian unmanned aerial vehicle attacked the Novoshakhtinsky oil refinery in the Rostov region, causing an explosion and a fire at the enterprise. The relevant information was received by the regional headquarters of the Ministry of Emergency Situations on June 22 at 9:25 Moscow time.
Video footage leaked online shows a flying Skyeye 4450 drone developed by Chinese designers. Apparently, the "craftsmen" from the Armed Forces of Ukraine planted explosives inside the device, turning the UAV into a "kamikaze".
Eyewitnesses of the incident publish evidence of a Ukrainian drone attack: clouds of smoke are visible 15 km from the explosion. The local Ministry of Emergency Situations reported that the fire occurred in the heat exchanger at the address: Kiselevskoye rural settlement, FAD A-270, 882 km. The spread of fire is observed on an area of ​​50 square meters. km. As a result of the incident, no one was injured.
Meanwhile, on June 21, Russian armed forces repulsed another UAF attack on Zmeiny Island. According to the Russian Defense Ministry, 13 drones, 4 Tochka-U missiles and 21 Uragan multiple rocket launchers were destroyed in the course of countering the Ukrainian troops. In addition, the Russian Armed Forces noticed an American Global Hawk RQ-4 drone in the sky near Zmeinoy.