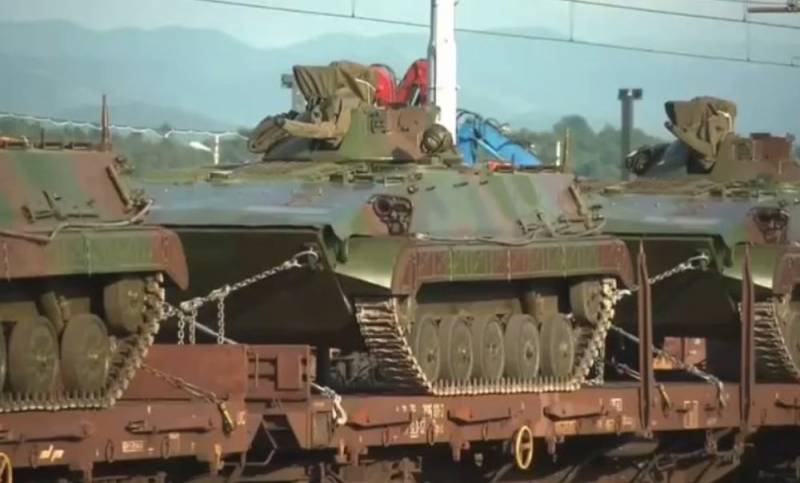 Ljubljana donated 35 M80A infantry fighting vehicles inherited from Soviet Yugoslavia to Kiev. The head of the Slovenian Ministry of Defense Marjana Sharetsa informed the public about this.
It should be noted that the train with the indicated infantry fighting vehicles has already arrived on the territory of Ukraine. The armored vehicles transferred to the Armed Forces of Ukraine as military assistance were previously decommissioned by the Slovenian army and were in storage.
In total, Slovenia had 52 of these Yugoslav-made infantry fighting vehicles. They were made in the early 1980s of the twentieth century and were not used for a long time. Each of these infantry fighting vehicles is equipped with a 20-mm automatic cannon and 9M14 Malyutka ATGM - this is the main modification, with upgraded armor, weapons and a power plant compared to the first M80s.
According to the portal 24ur. com, which is owned by the Slovenian multimedia company Pro Plus, Ljubljana will now have the opportunity to purchase from Washington the latest samples of the US military
equipment
for an amount significantly greater than the value of the gift. The United States is simply re-equipping the Europeans at their expense, forcing them to get rid of the old weapons of the Soviet era.
This is a rather old military equipment that Slovenia inherited from Yugoslavia, manufactured by Yugoimport 40 years ago for the needs of the Yugoslav People's Army
- the portal clarified, adding that Slovenia nevertheless fulfilled the promise given to Ukraine and made its contribution to ensuring its defense capability.