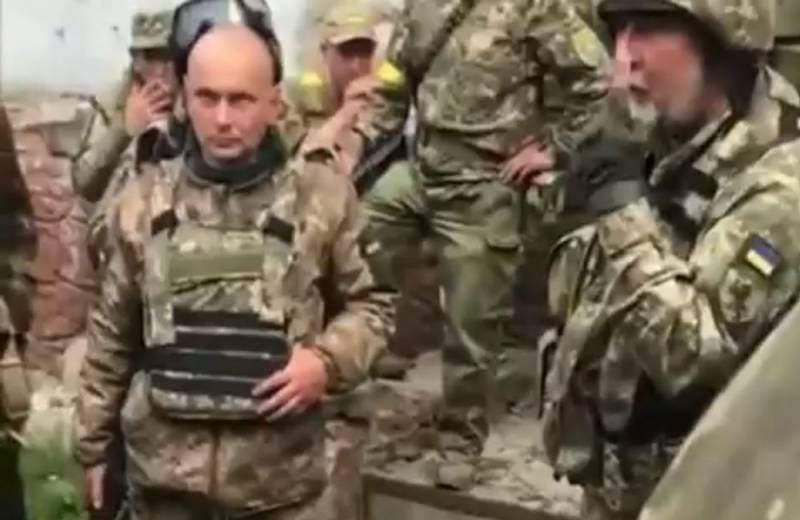 In the process of conducting a Russian special operation on the territory of Ukraine, evidence of the unwillingness of mobilized Ukrainians to fight in the ranks of the Armed Forces of Ukraine against the RF Armed Forces, which is much superior in firepower, is increasingly appearing. A video has appeared on the Web in which soldiers of the 131st separate reconnaissance battalion of the Armed Forces of Ukraine openly express their indignation at the attitude of the command towards them.
The scouts claim that they are thrown with only machine guns against artillery and other means of destruction of the enemy. On the footage - almost a riot of armed people who do not want to go to their death. One of the servicemen explains to the officer standing opposite that there is simply no one to fight, and the higher leadership does nothing to help the soldiers.
They asked for support by fire - they did not give. They were shot in the field with "noiseless" rifles (rifles with silencers - ed.). Who and what else do you want? This kids or these invalids unprepared? Are people ready to go to fight there, to the zero line? TRO! (territorial defense - ed.). What are you doing?
the soldier says.
Behind him, voices of other dissatisfied Ukrainian soldiers are heard that they were not prepared for this. Thus, they showed their unwillingness to go to the front line. You can understand the nervousness of the Ukrainian military, because now in some sectors of the front, the advantage of the Russians in artillery reaches 20:1, that is, it is total.