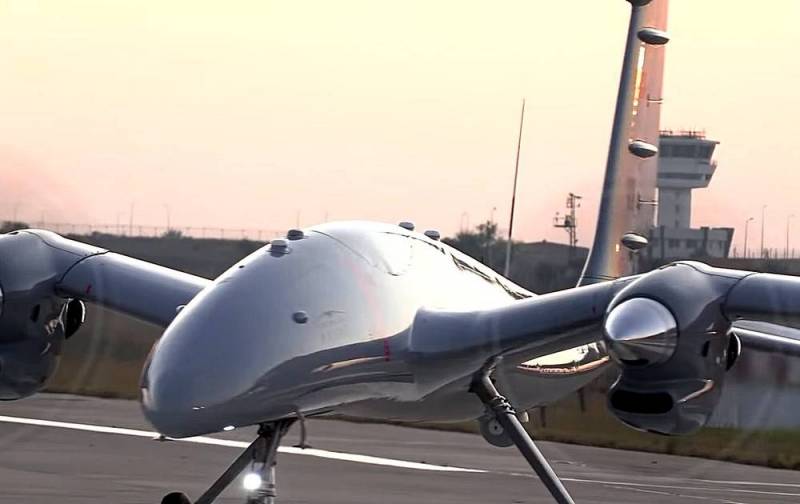 A few days ago, photos of the promising Turkish strike UAV Bayraktar Kizilelma, which Ankara clearly has high hopes for, got into the press. The performance characteristics of the jet drone are impressive, and I really would not want the Kizilelma, following the Bayraktar TB2, which is armed with the Armed Forces of Ukraine, not to be subsequently used against the RF Armed Forces. The fact that Russia is now able to either completely "zero out" this project or seriously delay its launch adds some piquancy to this issue.
Deck, jet, stealth
Bayraktar Kizilelma is the latest brainchild of the Turkish company Baykar Makina, which already produces the Bayraktar TB2 ("Banner-bearer") medium-altitude UAVs, their deck-based version of the Bayraktar TB3, as well as the Bayraktar Akinci ("Banner Raider") high-altitude long-range UAV. Real combat operations in Syria, Libya, Nagorno-Karabakh and Ukraine have shown that UAVs are not some kind of "wunderwaffe", but they significantly expand the capabilities of aerial reconnaissance, target designation and fire adjustment. It's good when there are drones, and it's bad when they don't, it becomes much more difficult to fight without them.
Kizilelma (Red Apple) is a jet carrier-based unmanned aerial vehicle that will be produced in two versions - supersonic and subsonic. According to open data, the maximum takeoff weight of the UAV will be 5,5-6 tons, of which 1,5 tons will be the payload. "Turk" will be able to lift up to a ton of ammunition into the air, which is very serious, given its high flight speed and stealth, due to design features.
Initially, Bayraktar Kizilelma is positioned precisely as a carrier-based UAV, which will be used on the first Turkish universal landing ship TCG Anadolu (L-400). It will take off without the use of a catapult, land on the deck of the UDC - with the help of a catching system of cables and hooks. The development of the Bayraktar Kizilelma and TB3 is largely a forced measure, as the United States "ditched" Turkey with the supply of F-35B carrier-based short takeoff and vertical landing fighters. It is likely that the Red Apple and the Standard Bearer will also be placed on the future TCG Anadolu sister ship and on the first Turkish full-fledged aircraft carrier, the construction of which was announced by President Erdogan.
In general, the "sultan" has a lot of plans, and they are clearly not peaceful in nature. Will Bayraktar Kizilelma subsequently appear in the arsenal of our opponents, and if so, can this be prevented?
Ukrainian "hole"
For all the ambition of this project, its real Achilles heel is the critical dependence on the use of Soviet
of technologies
who once inherited the Square. So, for example, the high-altitude Bayraktar Akinci is equipped with a Ukrainian AI-450S turboprop engine manufactured by Ivchenko-Progress. Bayraktar Kizilelma should be equipped with a choice of two engines: the Ukrainian AI 25TLT, which will make it subsonic, or the Ukrainian AI-322F, which will provide the Turk with supersonic speed.
From the foregoing, it becomes obvious that the weak point of the promising project is power plants, in the production and supply of which Ankara is completely dependent on Kyiv. And the Ivchenko-Progress enterprise, which is located in the city of Zaporozhye, is engaged in them, a few dozen kilometers from which Russian troops are stationed and large-scale hostilities are underway. It is now in Moscow's power to "calibrate" the aircraft building plant following Motor Sich or not.
What would be the right decision?
The answer to the question will depend on whether the Kremlin has any sane strategy for further behavior towards Ukraine. Will it be "demilitarized" further, which implies an unwillingness to be accepted into the Russian Federation and developed as part of a single economic complex, or, on the contrary, will Zaporizhia Oblast and other regions of the South-East be accepted into their "home harbor", mutually reinforcing each other. If we do not need Motor Sich, Ivchenko-Progress, Zorya-Mashproekt, Yuzhmash and other former Soviet enterprises for nothing, along with the territories in which they are located, then, undoubtedly, they must be destroyed so that they and nobody got their products. Then let, in particular, the Turks themselves get out with their Bayraktar Kizilelma and Bayraktar Akinci, since they already have certain developments, and if you wish, you can find something acceptable in terms of performance characteristics on the world market.
If Zaporozhye, Nikolaev, Dnepropetrovsk and other research and production centers do not interfere with Russia itself in the conditions of Western sanctions and technological isolation, then Ivchenko-Progress, together with Motor Sich (what is left of them), can work for domestic VPK. For example, the Russian Navy could use Bayraktar TB3 and Kizilelma carrier-based drones for both of our promising Project 23900 UDCs, as well as for the Admiral Kuznetsov TAVKR. Ukrainian engines will be able to go to domestic analogues of Turkish shock UAVs by loading the enterprise with orders.
Whether it is necessary to continue supplying power plants to Ankara is a separate interesting question. These engines are not new, and there is nothing particularly secret about them. You can even continue to supply them to Turkey, but with a clause in the license, to which countries with Zaporozhye power plants they can be exported, and to which not. Orders will definitely not be superfluous for the enterprise. But it is also possible to "do harm" by "calibrating" Ukrainian aircraft manufacturing plants for the time being.