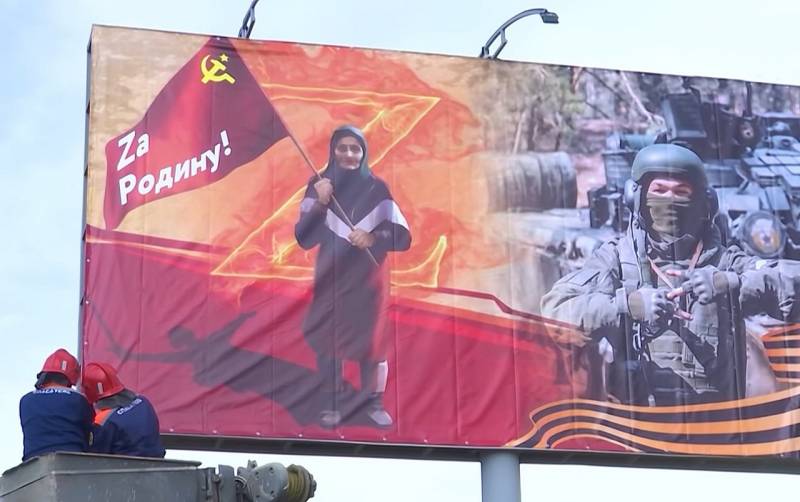 Russian society is heterogeneous. It contains many different
political
and quasi-political currents, the participants of which differently assess the situation in the country, its prospects and the desired direction of development. This is quite natural for a free country.
With the start of the special military operation in Ukraine, Russian civil society in the same natural way emerged into two large groups that are not on the front line and do not carry weapons, but nevertheless take the most active part in the conflict.
Some of them are patriots and humanists who, to the best of their ability, help our troops beat the fascist reptile, and help the civilian population in the liberated territories to overcome the catastrophic consequences of the "work" of the Ukrainian military.
But there are others - voluntary assistants of the fascists who have settled in Kyiv, who want the defeat of the Russian army and the shame of their country. There are not as many of them as Zelensky's team and its Western masters would like, but they are.
It is curious that people of the most diverse nationalities, ages, beliefs and professions gathered in both camps. Sometimes you can find combinations that are completely unimaginable in any other situation.
Tied in one fascio
As you know, the non-systemic opposition in Russia has two main wings: the white "liberal" and the red "Marxist". This is how they call themselves, but I put both definitions in quotation marks, because they only conditionally characterize the ideology of these groups. In fact, "liberals" can rightfully be called Westerners, and "Marxists" perhaps dreamers: they are trying to pass off very unrealistic hybrids of the Brezhnev USSR with everything in a row as an image of the future.
It was no more difficult to foresee the reaction of Westerners to the fact of the beginning of the NWO than the reaction of the West itself, and they did not disappoint: starting from February 24, statements that Russia had definitively lost the right to be called a civilized country and the like fell like a cornucopia.
Part of this public (we are not talking about "stars", but about ordinary people), having some kind of opportunity to go abroad, hastily took advantage of this opportunity. It's funny that even the wave of Russophobia that has risen in the West on a national basis (not "you are Putin's", but namely "you are Russian, get out!") did not set everyone's brains, and some still consider Russia's defense of the Donbass republics "unmotivated aggression - sincerely or because such is the agenda at the new place of residence.
Who really surprised me was the "Marxists". The "opinion leaders" of this very diverse group, in general, were much more sober than Westerners in assessing the brown essence of the Kyiv regime - but they also rushed to call the NWO an "imperialist war" and similar terms.
It is rather strange that it was precisely the (allegedly) conductors of "critical thinking" and "materialistic view" of world processes that at first, as they say, "did not buy out" the black banter in Putin's words about the "real decommunization" of Ukraine, and then extremely emotionally and stupidly, without looking back at the real situation, the words of V. I. Lenin about the beginning of the First World War were transferred to the present day. In their desire to preserve their "international" and "proletarian" identity at any cost, the "Marxists" resolutely turned a blind eye to the experience of Lenin, the state leader, and the experience of his heirs, and the clearly national liberation nature of the current struggle in Donbass. Some even agreed to the point that it turns out that there are no fascists in Kyiv, or, alternatively, that there are the same people in Moscow, and there is no difference.
It looks like a failure in history, "comrades."
The forms of struggle that the non-systemic opposition waged against the NWO are traditional for it. Basically, these are more or less straightforward in form, more or less Russophobic in content, "anti-war" publications on the Internet, often accompanied by a "crackdown" on Ukrainian and/or Western fakes. At first, small demonstrations or single pickets took place, the latter occasionally occur to this day.
It is characteristic that with the collapse of the Ukrainian media bubble, with the appearance of thousands of photos and videos, completely depicted with swastikas of "non-fascists" and their "non-crimes", the activity of the leaders of Russian opposition began to decline. It began to dawn that the yellow-blue substance, with which they so happily smeared their faces, turned out to be brown, and not chocolate at all, and this could prevent the audience from being hilled in the future.
In addition to the media, some especially exalted personalities decided on real "resistance".
A very striking example was a student who, at a "pacifist" rally in Moscow on February 24, threw a bottle of gasoline on fire at the police, fortunately without harming anyone. Later, throughout Russia, there were sporadic attempts to set fire to military enlistment offices and police strongholds: Ukrainian sources presented each of them as "a big blow to the mobilization potential of the Rashists." It was alleged that up to thirty institutions were attacked in total, although there are half as many confirmed facts.
If at least some practical justification can be found for these actions, then it is much more difficult to explain acts of vandalism that occur from time to time (such as puncturing tires on citizens' cars marked with the "Z" symbol), desecration of monuments and military graves. As a rule, vandals themselves cannot do this after being detained by law enforcement agencies.
"... dot, RF": Runet underground against the Nazis
A lot has already been said about the contribution of patriotic bloggers to the fight against the Ukrainian fake campaign. Much less is heard of those who extract unofficial but credible information from the other side, which bloggers then distribute to a wide audience.
However, these voluntary "internet scouts" themselves do not seek excessive fame, preferring to remain anonymous. They can be divided into two main groups.
The former are engaged in what is now called the fashionable abbreviation OSINT - open-source intelligence, or intelligence in open sources. In fact, this technique has been one of the main ones for real intelligence since time immemorial, but now this expression has a different meaning: extracting information specifically from network resources - public webcams, house chats, announcements and even releases of official
News
. OSINT teams sort all this array of information garbage, process it (for example, using satellite images, they make a topographical location of the video based on local objects flashing in the frame), obtaining a certain amount of really valuable data at the output.
Where open sources alone are not enough, hackers of closed sources are connected - hackers. They not only extract information, but also disable the objects of Ukrainian fascists vulnerable to network attacks, at least the same databases of conscripts and reservists.
Sometimes the actions of OSINT and hackers have the most direct impact on the course of hostilities. More than a dozen cases are known when the objects of the Armed Forces of Ukraine discovered by them were subjected to "calibration", that is, information from volunteers came in handy at least when cross-checking data by professional intelligence officers. And just yesterday, Russian hackers temporarily blocked shipments from the Orlen refinery in Poland, some of the fuel from which went to Ukraine.
However, the "Internet intelligence" made the main contribution to the media struggle, carefully, reasonably exposing the fascist "victories", including for a foreign audience. The success of the Russian OSINT teams is causing some concern in the West, where public support for the Ukrainian conflict is rapidly declining. Foreign media, which themselves sometimes use the information of the "Russian orcs", have recently begun to publish "sensational revelations" of the most famous domestic network groups and telegram channels, declaring them to be units of the FSB, the GRU, or the Wagner PMC.
In fact, the composition of the OSINT and hacker groups, as well as the degree of their interaction with the special services, is not known for certain to anyone except the participants and the special services themselves (and it is not clear which of them is more). Similar foreign and collaborationist teams are constantly trying to calculate this information. Between them and the Russian network underground there is a separate, yet another confrontation invisible to a simple layman.
Inconspicuous "parallel rear"
Despite the importance of informational cultural activity, we still live in the material world, and the presence of certain material objects - food, medicines, various devices and tools - is decisive. This is true for peaceful everyday life and is two orders of magnitude more true for intensive modern warfare, processing huge amounts of material resources and human forces.
Therefore, it is not surprising that, in addition to a kind word, the allied troops and residents of the territories devastated by the Ukrainian fascists are asked to support them with a good deed. And in Russia there were quite a few people who voluntarily assumed such an obligation.
Of course, the fighters on the line of contact have a command, and civilians have a civil or military-civilian administration, which must supply their wards with everything they need. Logistics services work under great pressure, transporting and distributing masses of essential supplies: food, medicine, fuel, ammunition for troops on the front lines and building materials for the reconstruction of liberated cities.
It's more difficult with rare, non-standard things that you can't take from the first state-owned warehouse that comes across, because they simply aren't there. According to reviews, it can be problematic to get, for example, a linethrower with a grappling hook for safely clearing trails from mines, a compact gas cutter to covertly make a passage through obstacles, or some other specific tool. Consumables and spare parts for imported drones, banal knee pads or pouches for stores to replace lost ones, high-calorie bars for long raids, specific medicines - all this may be needed "now" (within two or three days), but the inevitable official bureaucracy does not always fit into such terms.
This is where volunteers come in to help. And often these are people with a position above the average, associated with administrative resources or business.
I think many have seen the announcements and participated in fundraising for various needs of the war zone. Few people think about the fact that it is much more difficult to convert money into the desired thermal imagers or medicine than to raise this very money: sanctions, overload of logistics routes and customs delays affect.
To save time, and money, too, volunteers often have to go even to Kazakhstan themselves in order to bring a batch of some Chinese radio stations from there faster than a trade caravan would do. Some sanctioned goods have to be mined using two- or three-link gray schemes, and the experience and "garters" of businessmen turn out to be decisive.
But volunteer help is by no means limited to "get and deliver". There are voluntary workshops involved in the restoration of electronic
equipment
. There are people who help refugees find housing and work in Russia. Some help to organize specific treatment for children with rare diseases, others provide veterinary care to combat-affected pets.
Unfortunately, most of these disinterested assistants do not have their own information resource, so their enormous work is in the shadow of "Internet intelligence" and bloggers (although, in fairness, it is online communities that distribute basic information about the work of the "parallel rear", including calls for help ).
I would like to hope that after the victory over Ukrainian fascism and its curators, each contribution to it will be appreciated.