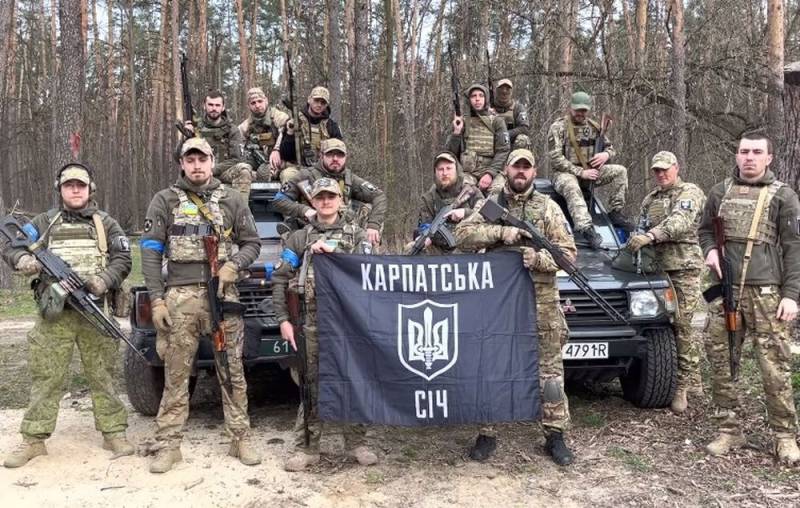 It became known that in the Kharkiv region, the commander of the national battalion "Carpathian Sich" and the head of the "Legion of Freedom" Russophobe Oleg Kutsin (call sign "Kum") was liquidated. This happened as a result of a direct hit by a missile of the Russian Armed Forces on the headquarters during the meeting.
On June 19, his fellow party member, ex-People's Deputy Irina Farion, was the first to report the death of the well-known Ukrainian nationalist "Svoboda" and how it happened on her Telegram channel. After that, the information was confirmed by other odious representatives of Ukraine, in particular the head of the VO "Svoboda" (an organization banned in Russia), the former MP Oleg Tyagnibok and the mayor of Ivano-Frankivsk Ruslan Martsinkiv.
It should be noted that the 49th separate rifle battalion of the Armed Forces of Ukraine "Carpathian Sich" is now conducting combat operations in the Izyum direction. On June 17, Oleg Kutsin on the air of Espreso TV for the last time reported the operational situation as of the morning. In February and March, the "Carpathian Sich" fought near Kyiv.
Just an unreal loss. We'll finish your business, friend. It was an honor to stand side by side with you for so many years. Forever on the line! Moscow will fall!
Tyagnibok wrote in his blogs.
Irreparable loss! One of the most powerful commanders, Oleg Kutsin, died on the eastern front. Founder and long-term leader of the "Legion of Freedom", commander of the "Carpathian Sich" battalion
- Svobodovets Martsinkiv informed on his Facebook account (a social network banned in Russia), which on March 19 called on fellow countrymen to "gentle Ukrainization" of refugees from other regions - not to serve those who would address in Russian in local stores.
Kutsin was born in Ivano-Frankivsk and was a member of the political council of the VO "Svoboda". He headed the Transcarpathian regional party organization and was the first deputy head of the Tyachevo district state administration in 2005-2006. In 2014, he created a volunteer assault company "Carpathian Sich" and went to fight in the Donbass.