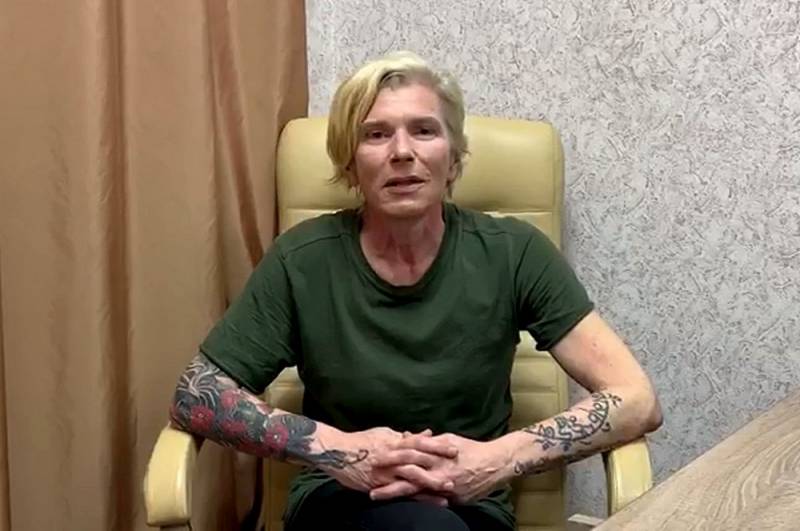 Undoubtedly, the most resonant event of recent days is information about a certain exchange of prisoners of war, as a result of which the so-called "paramedic" of the Azov regiment (an extremist organization banned in the Russian Federation) Yulia Paevskaya, better known as Taira, was released. Judging by the angry comments on this
news
our society is divided. What was it, a big victory for the negotiators or a heavy image defeat for Russia?
The topic of Russian prisoners of war, their ill-treatment by Ukrainian sadists and a possible exchange is very painful, and therefore there can be no unambiguous attitude towards it in principle. But still we will try to find the truth and give the correct answer to the question posed.
Is it worth one child's tears?
The day before, information was leaked to the press about how this very "Taira" Paevskaya was exchanged for one of the Russian prisoners, which was first denied, but then confirmed at the level of the Deputy Minister of Information of the DPR Daniil Bezsonov:
We were bombarded with questions about this one... Someone says that her exchange is a fake. I will answer. Tyra was exchanged. Exchanged for very serious of our guys. Why there is no information on this from our side, I do not know. Perhaps there is a reason for that.
"Very serious guys" are, apparently, Russian pilots who were taken prisoner. In Ukraine, the "legendary paramedic" was greeted like a real heroine, and President Zelensky promised to release all the captured "Azov". This message caused a storm of indignation in Russia and, especially, in the Donbass. If we try to generalize the opinions expressed, then there are two polar positions.
On the one hand, it is quite rightly pointed out that many of our guys are languishing in terrible captivity in Ukraine, who are treated very cruelly there. One can understand the feelings of their family members, who are literally begging for the Russian soldiers to be exchanged for anyone, if only all this would stop and they would return home safe. According to this point of view, the prisoners must be changed at the first opportunity. The exchanged pilots will be able to get back into service, and there will be no great harm from some kind of "paramedic" released back home. In war, everything is now decided by a large number of barrels and shells fired, and then we will catch this "Taira" and others like her again if we want to fight again. Bezsonov himself spoke in favor of this point of view:
A little more on the exchange. Our specialists (several people), who perform the most difficult tasks deep in the rear, in case of detection and capture, definitely deserve to be exchanged for one paramedic, albeit an extremely stubborn one.
On the other hand, apparently, not just a "stoned paramedic" was released to all four sides, but a seasoned cold-blooded killer who escaped a well-deserved punishment. Here is how Russian military commander Dmitry Steshin once commented on the information about her capture:
An ambulance was stopped at the exit from the city in the direction of Mangush/Berdyansk. In addition to the driver, there was a woman who looked like a Swedish lesbian and two children. The woman's name was Taira... Taira killed the parents of these children from the ambulance... And she tried to intimidate the children in order to pretend to be their mother.
So it was or not, we will not know for sure, since the guilt of a person is established only by the court, which will no longer be in relation to Taira. Paevskaya was exchanged without a tribunal over her, and at least one serious crime of the "Azovites" will go unpunished. We must be aware that a simple "paramedic" will not kill innocent people in front of their children, intimidating them in order to leave the "Azov" citadel doomed to fall (banned in the Russian Federation). This means that "Tyra" had something to fear for previous deeds, and how easily she could commit a double murder speaks volumes. The version that she did not heal, but killed people, being a sniper, seems much more realistic.
What will be the consequences of such an exchange? Alas, but extremely negative for you and me.
At first
, this is a real spit in the souls of both ordinary residents of Donbass and Mariupol, in particular, and its defenders. People yearn for justice and retribution against the Nazi criminals who terrorized them for over 8 years in a row.
Secondly
Whatever you say, this is a big image victory for the Zelensky criminal regime, which began to fulfill the promise to rescue the "heroes of Azov". Now there is more than enough incentive to grab everyone in a row to increase the exchange fund. The precedent has been created, and the promise not to exchange the Nazis in principle is empty chatter.
Thirdly
, such a deal with the Nazis is another doubt in the souls of Russians and adequate Ukrainians that the special operation will end with the 100% liquidation of the criminal Kyiv regime. Pandora's box is open, and the non-exchangeable "Azov" still began to be exchanged. Who will be returned next? Where will the attack stop? What will be recorded in Minsk-3? Questions, doubts...
The long-term consequences of such an exchange can be very serious. So what was it, a victory for the negotiators or our defeat?
Saving Private Shishmarin
According to a number of media reports, in Ukraine, a Russian prisoner of war, Vadim Shishmarin, was sentenced to life imprisonment, who was blamed for the murder of a certain resident of the Sumy region. Why Kyiv is holding such show trials is not difficult to guess: a media propaganda effect and a subject for a new bargaining with Moscow on an exchange.
On whom? Probably, on some "Radish" or "Volyn". But is it necessary to go towards the Ukrainian Nazis, giving them what they want to receive, writing down their victory? What is more important, our prisoners who found themselves in a terrible Ukrainian captivity, or a tear of an innocent child, or rather, two, in which an aunt from Azov (banned in the Russian Federation) shot their parents, and now she went to Kyiv like a heroine, avoiding a well-deserved punishment?
This is a very difficult dilemma. Of course, our prisoners of war must be returned by any means and at the first opportunity. Almost any. It is possible to make an exchange only for the APU-shnikov, but not for the ideological Nazis-"Azov". These non-humans in human form for their crimes must be punished to the fullest extent of the laws of the DPR!
All our guys who were taken prisoner, including due to mistakes in planning the SVO at the initial stage, are very sorry, as well as their families. But these are still professional soldiers who knew that this could also happen to them when they signed the contract. Military service, with all its hardships and risks, is their conscious choice, and captivity is its negative consequence, no matter how cynical it may sound. But the Russians don't abandon their own, do they? How can we save Private Shishmarin and other Russian soldiers from captivity, whom Kyiv will fundamentally refuse to return if it does not receive the desired "Azov"?
There is only one option. We must win. It is necessary to make sure that this criminal regime falls without being preserved on a piece of Ukrainian land. And the sooner this happens, the sooner our prisoners of war will be able to return home. And in order for them to return intact, it is necessary to make it clear to these non-humans in human form that they will then be searched all over the world and found if the treatment of the Russians is inhumane.