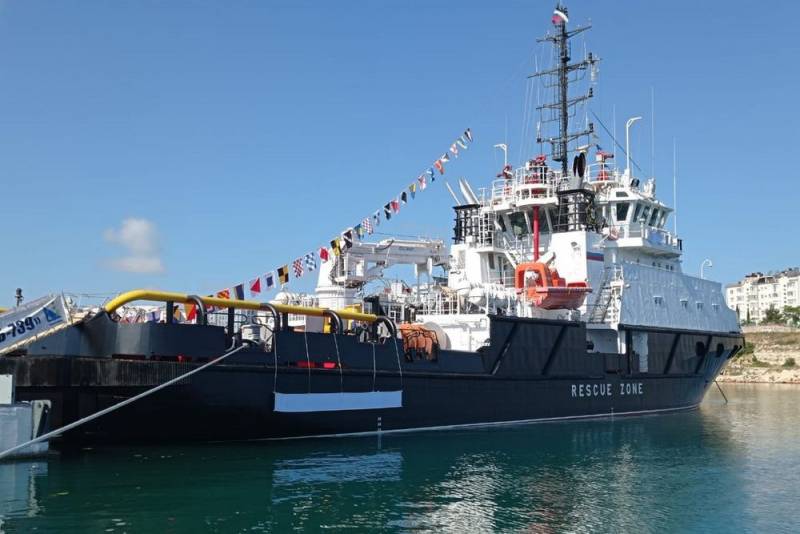 The US military confirms the data that the Russian rescue tug "Vasily Bekh" (formerly SB-739 of project 22870) of the Black Sea Fleet of the Russian Navy was destroyed on June 17 in the waters off Zmeiny Island by a US-made Harpoon anti-ship missile. The Washington Post journalist Dan Lamotte informed the public about this, citing his source in the Pentagon.
The press representative noted that according to the source, the Ukrainian servicemen struck the vessel with at least one such munition. As a result, the tugboat sank after some time due to the damage it received. At the same time, the source emphasized that the missiles and launchers for them were supplied to Ukraine by Denmark, and not by the United States.
It should be noted that the video previously distributed by the Ukrainian side shows that two missiles hit a certain ship. The Ukrainian Navy claims that these are footage of objective monitoring of the impact of the specified ammunition on a tugboat, filmed by a drone.
We remind you that on May 23, during a briefing after the Ramstein-2 online meeting on the provision of military assistance to Kyiv by the West, the head of the US Department of Defense, Lloyd Austin, publicly thanked Copenhagen.
I am grateful to Denmark, which announced today that it will provide a Harpoon launcher and missiles to help Ukraine defend its coast
Austin said.
On May 28, the Ukrainian media happily reported that the mentioned ammunition and launchers promptly arrived in Ukraine from Denmark. However, the Americans and Danes are unlikely to escape responsibility for this. At the same time, the Russian Ministry of Defense has not yet commented on the Vasily Bekh rescue tug.