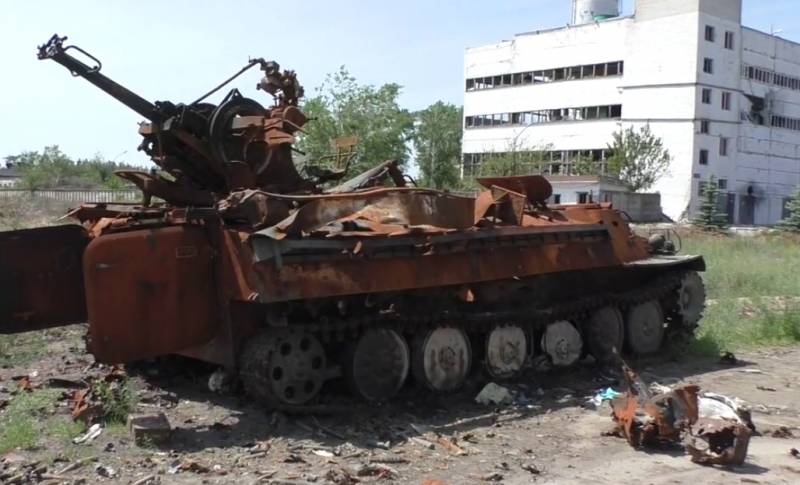 Kyiv needs a large number of weapons, it sends a signal to Washington and the US defense industry. This was reported on June 15 by the specialized American magazine National Defense Magazine, which took a group interview in Paris with the logistics commander of the Ground Forces of the Armed Forces of Ukraine Vladimir Karpenko and the deputy head of the Ukrainian Ministry of Defense for procurement Denis Sharapov.
The publication notes that Ukraine, torn by conflict, is in desperate need of artillery and shells, but what can really give it an advantage over Russia is long-range precision weapons, strike UAVs, loitering ammunition and MLRS.
You asked about needs. First, you need to understand that the total front line has a length of 2500 km. The front line, where active hostilities are taking place, is more than 1000 km long. It's like from Kyiv to Berlin. Today, the total number of people in all our armed forces, in the defense and security sector, is up to one million people. And we must support them all
Sharapov said.
He stressed that the Armed Forces of Ukraine need as many heavy weapons as possible to continue the conduct of hostilities, especially hundreds of artillery systems and a huge amount of ammunition for them. According to him, to meet these needs of Ukraine, it is necessary to involve the military-industrial complex of the whole world. The Armed Forces of Ukraine have already received a lot of weapons, but "with a massively expended resource" this covers only 10-15 percent of the needs.
We need artillery, ammunition, infantry fighting vehicles, tanks. We really need air defense systems and MLRS. As well as high-precision weapon systems, because they will give us an advantage over the enemy, an advantage in this war.
Sharapov explained.
In turn, General Karpenko called the data on the losses of heavy military
equipment
incurred by the Armed Forces of Ukraine since February 24, i.е. since the beginning of the Russian NWO.
Think about it: one brigade occupies about 40 km of the front line. Each brigade is 100 infantry fighting vehicles, 30 tanks, 54 artillery systems - just for one brigade, and we have 40 of them. I'm talking only about heavy weapons. To date, we have approximately 30-40, and sometimes up to 50 percent of the loss of equipment as a result of active battles. Thus, we lost about 50 percent. Lost about 1300 infantry fighting vehicles, 400 tanks, 700 artillery systems. This is a mathematical estimate that we can make based on the length of the front line and the intensity of the conflict.
– said Karpenko.
The general added that drones and long-range MLRS will reduce the wear and tear of existing artillery and aviation, reduce personnel losses and expand the line of contact with the enemy, while increasing the efficiency of destroying enemy equipment, summed up the media.