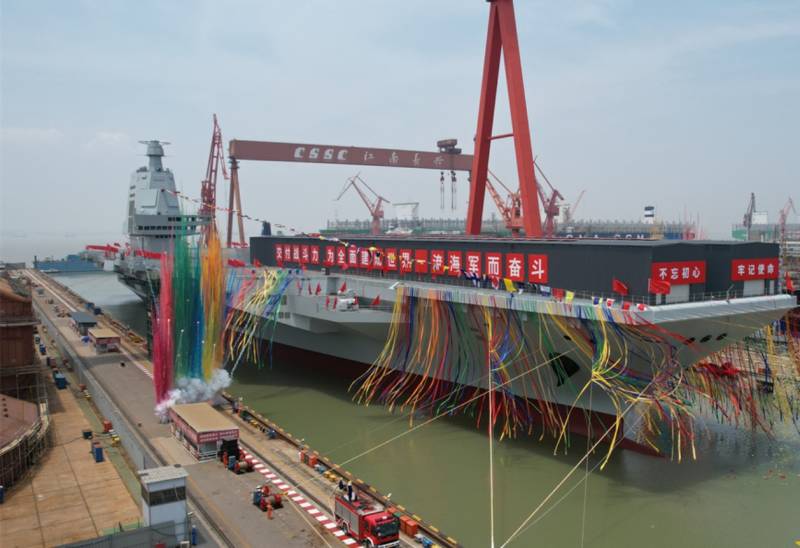 The American press reacted to the launch of China's new aircraft carrier "Fujian". This is the third aircraft carrier of the Celestial Empire, but the first built according to new, more advanced principles.
The Washington Post
, notes that an aircraft carrier equipped with an electromagnetic catapult for accelerated launch of aircraft with a heavier payload was revealed to the world. This
technology
outperforms the springboard configuration used on two other Chinese aircraft carriers.
The Fujian offers a whole new level of capability compared to the Liaoning and Shandong ships.

said Colleen Koch, an expert from Singapore.
In turn, the channel's website
CNN
recalls that China names its aircraft carriers after its coastal provinces: Liaoning in the northeast and Shandong in the east. Fujian is the closest province to Taiwan, separated from that by a strait.
The ruling Chinese Communist Party claims sovereignty over Taiwan's democracy, despite having never ruled it before. Chinese leader Xi Jinping has repeatedly stated the inevitability of "reunification" and refuses to rule out the use of force in this matter.

- said in a statement.
Currently, China has the largest navy in the world, and aircraft carriers are the main ships of the fleet of any major power.
I did not ignore the topic and a popular resource about technology and technology -
The Drive
. In its article, the site praised the novelty, but noted that it is not clear when the aircraft carrier will be ready to begin sea trials, which are a prerequisite before full commissioning.
The resource emphasizes that although many immediately try on the new ship for a possible military conflict over Taiwan or the South China Sea, in reality it is intended to deploy an air wing in much more remote regions. For example, in the Horn of Africa.
And the American weekly
Newsweek
called "Fujian" the final departure from the Soviet technology on which the first two aircraft carriers relied.
This shows that Chinese engineers can now independently produce a full range of surface combatants for modern naval warfare, including corvettes, frigates, destroyers, landing craft, and now an aircraft carrier.

– noted in the new article.
In fact, China has entered a new technological era in the field of naval affairs, where both new challenges and prospects await it.