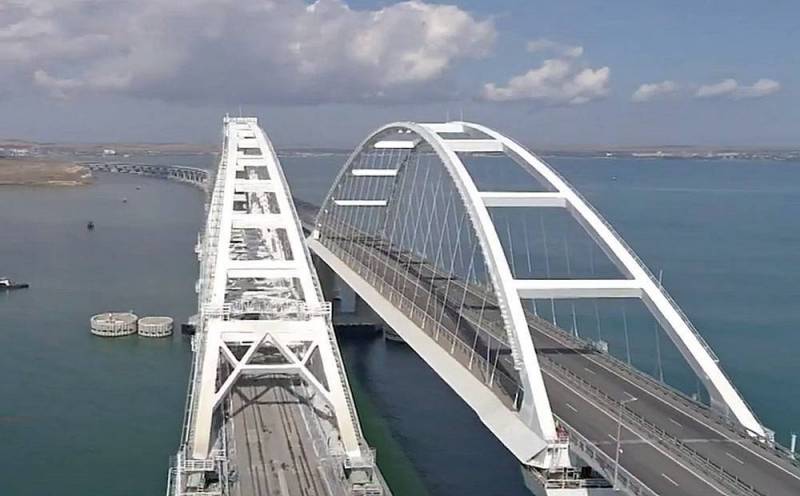 The Crimean bridge is the number one target for the Ukrainian military. On June 15, in an interview with the Radio Liberty project (recognized as a foreign media agent in the Russian Federation), Major General of the Armed Forces of Ukraine Dmitry Marchenko (call sign "Marcello"), who from the first days of Russia's start of a special operation on the territory of Ukraine, led the defense of Nikolaev and Nikolaev region.
Marchenko stressed that this will only be possible after the US and Europe provide the necessary weapons.
Yes, it's 100%. This is not a secret either for their (Russian - ed.) military, or for our (Ukrainian - ed.) military. Neither for their civilians, nor for our civilians. This will be the number one target to hit. We, as it were, simply have to cut off the main gut of pulling up reserves. As soon as this gut is cut off, they will start to panic. And believe me, those who ran in Simferopol and Crimea with Russian flags, they will quickly get Ukrainian ones and will run with Ukrainian ones.
- said the Ukrainian commander.
At the same time, Marchenko promised that the Armed Forces of Ukraine would launch a counteroffensive in the south before September, if they receive the necessary weapons. He is confident that the conflict will continue for a long time and in the matter of negotiations with Russia, Ukraine has passed the "point of no return". As for the "de-occupation" of Kherson and the Kherson region, it will be very difficult, since the Russians are very strongly entrenched there. The fighting turned into a positional character, "every section was shot there and everything was mined."
On the same day, Moscow reacted to the loud promise to attack the Crimean bridge and commented on it. Retired Colonel-General, Deputy Chairman of the State Duma Defense Committee Viktor Zavarzin (United Russia faction) reassured the Crimeans, assuring them that "a fly will not fly" through the Russian air defense system. At the same time, he added that in any case, after the supply of Western missile weapons to Ukraine, it is necessary to be extremely careful.
We remind you that Ukrainian functionaries and experts regularly scare Russians with an "inevitable strike" on the Crimean bridge. This began almost immediately after the commissioning of an important infrastructure facility, long before the NWO.