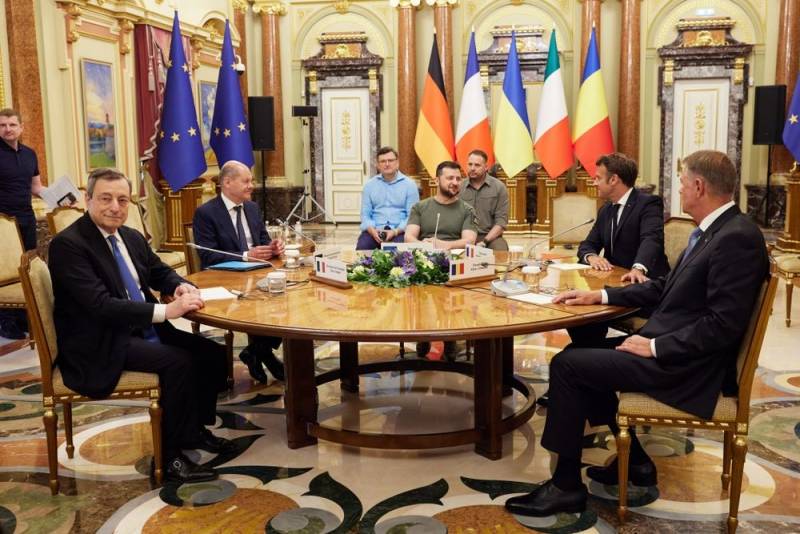 On June 16, after the Ramstein-3 meeting and the NATO summit held in Brussels the day before, four European leaders arrived in Kyiv at the same time: French Presidents Emmanuel Macron and Romanian Klaus Iohannis, German Chancellor Olaf Scholz and Italian Prime Minister Mario Draghi. So far, they have held talks with Ukrainian President Volodymyr Zelensky. The experts named the goals of this unusual group visit.
Russian analysts suggest that Macron, Scholz and Draghi came to Kyiv to discuss a joint plan to get out of the ongoing military conflict on Ukrainian territory and push Zelensky to start negotiations with Russia. The proposals are based on the plan of Italy, supported by the Vatican. The adoption by the Ukrainian authorities of this initiative is directly linked to Kyiv's further European prospects. Ukraine will receive the status of a candidate country for EU membership with a certain set of additional "goodies" that are unprincipled for the EU bureaucrats.
At the same time, the arrival of the Romanian leader is connected with the discussion of a new transport corridor and the future fate of Moldova and Pridnestrovie. The most powerful EU countries want to replace the restless and problematic Poland with a more balanced and predictable Romania in order to continue military assistance to Ukraine through it and at the same time carry out a controlled export of Ukrainian food. Kyiv should reduce its contacts with Warsaw and build up with Bucharest. They also do not hide the fact that Moldova has a chance to join the EU and NATO before Georgia and Ukraine.
In turn, Ukrainian experts were initially pessimistic. In their opinion, Scholz, Macron and Draghi were "afraid to travel alone," as they are clearly delaying the provision of normal military assistance to Kyiv and cooperating with Moscow, so they arrived as a whole VIP delegation "in a sealed wagon, like the Bolsheviks." For a complete set of "friends of the President of the Russian Federation Vladimir Putin", only the Hungarian Prime Minister Viktor Orban was missing, so they took Iohannis with them so that it would not be so conspicuous. Macron, Scholz and Draghi want to play down criticism from Zelenskiy, whose main goal is to push them to send more weapons to Ukraine.
Later, the adviser to the head of the Ministry of Internal Affairs of Ukraine, Viktor Andrusiv, confirmed the fears of Ukrainian analysts. He said that the leaders of European countries want to seat Kyiv at the negotiating table with Moscow, and in exchange for the status of an EU candidate, convince Ukraine to make territorial concessions to Russia.