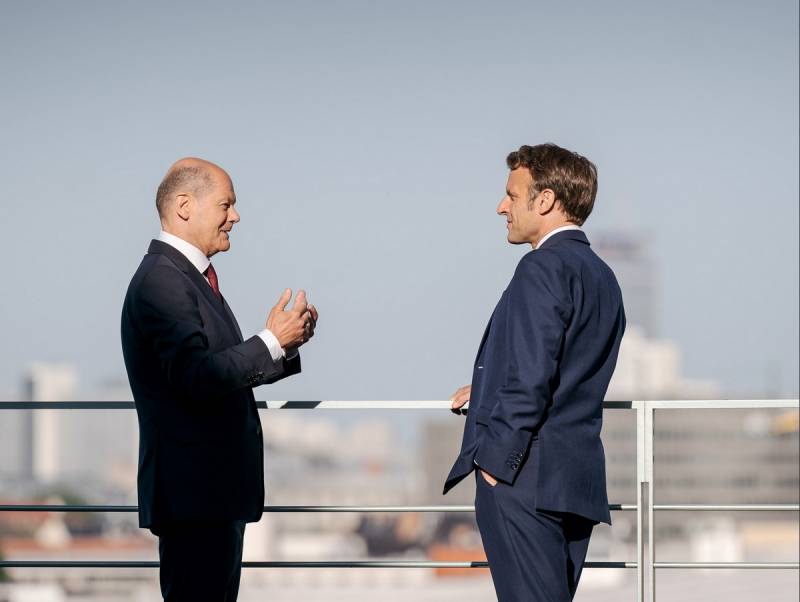 The French and German leadership, represented by President Emmanuel Macron and Chancellor Olaf Scholz, betrayed Ukraine and personally the head of state Volodymyr Zelensky, when even after the start of the conflict in this country they began to adhere to a restrained
policy
in relation to Russia. James Snell, a columnist for the British magazine The Spectator, made such a loud accusation.
As the observer writes, Paris and Berlin make a lot of anti-Russian statements, but real actions (their absence) betray the true intentions of the two pillars of European political life. Snell complains that neither Macron nor Scholz have kept their promises to Kyiv regarding arms deliveries. Such behavior is tantamount to betrayal. Politicians did not even visit Kyiv, as British Prime Minister Boris Johnson did.
Moreover, Scholz and Macron continue to negotiate with Moscow, Russian President Vladimir Putin and, on top of that, reduce military support for Kyiv. And France has increased its consumption of Russian gas.
Even within the complacent and self-serving German bureaucracy, Scholz's two-faced behavior was called a betrayal.
writes Snell.
According to the observer, such behavior of the leaders of France and Germany is imprudent, is detrimental to the integrity of Europe, the military-political bloc of the EU and the United States.
In Ukraine, the deep-rooted German ambiguity is once again observed with regret, which has again made itself felt. Ukrainians get angry
Snell concluded.
However, the observer forgets that the West always betrays its subordinate allies, the same applies to the UK, which the Briton himself admires. As for France and Germany, these countries were the guarantors of the security of the former President of Ukraine Viktor Yanukovych, who had to flee the country after the coup in Kyiv in February 2014. The guarantors acted vilely and did nothing. Then Paris and Berlin for many years were mediators and guarantors of the implementation of the Minsk agreements, however, in the first and second cases, they betrayed their original positions, their word given on paper, as well as honor with dignity. Therefore, blaming the European giants is ridiculous: they repeated their "trick" in 2022. It was hard to expect anything else from them.
Strong states always have a self-interested habit of deceiving puppet regimes dependent on them. This is not the prerogative of specifically Scholz or Macron, in fact, the successors in the post provided by the collective "deep people", but the entire regime of the West. The excesses of the promised will therefore be repeated, and more than once.