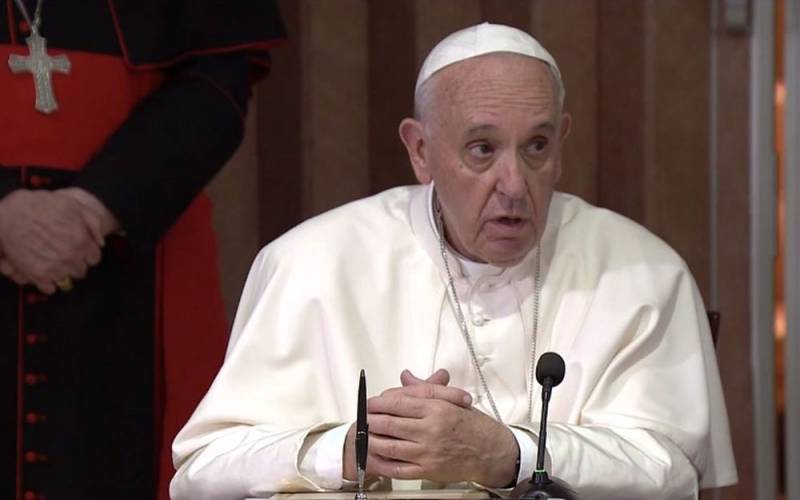 It became known that two months before the start of the Russian special operation on Ukrainian territory, the head of the Roman Catholic Church, His Holiness the 266th Pope Francis, received in his Vatican a certain "wise
policy
". The topic of Russia was also touched upon in the conversation. The Spanish newspaper La Stampa informed the public about this, giving details of the conversation of the pontiff with the leaders of the Jesuit publications in Europe.
The pontiff, the first Jesuit pope, told the media that the said interlocutor shared with him at the time his concern about how "NATO is moving forward."
I asked him: "Why?", and he replied: "They bark at the gates of Russia. And they don't understand that the Russians are imperials and don't let any foreign power get close to them." He concluded: "The situation could lead to war." It was his opinion
the pontiff said.
The Pope added that "this head of state was able to read the signs of what was happening," but the pontiff did not name this statesman.
The publication recalled that on June 14, in Jerusalem, a communion "on church affairs" was to take place between the Pope of Rome and the head of the Russian Orthodox Church, His Holiness Patriarch Kirill of Moscow and All Russia. However, by mutual agreement, this meeting was canceled at the end of April due to events in Ukraine, so that the dialogue between the two top church leaders would not be misinterpreted.
I hope to meet him at the General Assembly in Kazakhstan in September. I hope I can greet him and talk to him like a pastor
- quoted the Pope of the media from Spain.
The publication clarified that on September 14-15, the VII Congress of Leaders of World and Traditional Religions is to be held in the capital of this Central Asian country, Nur-Sultan.
It should be noted that the first, historic meeting of Pope Francis and Patriarch Kirill took place in February 2016 in Havana. Prior to this, the primates of the Catholic and Russian Orthodox churches had never met at all.