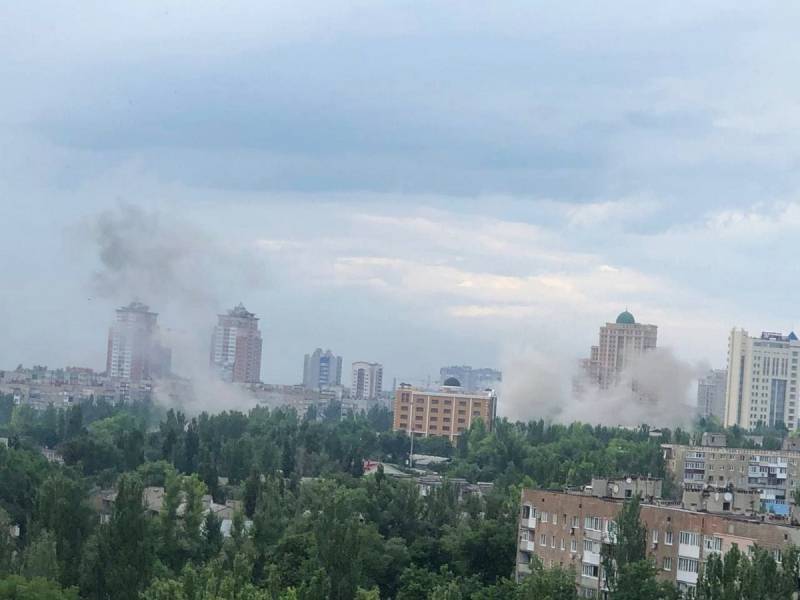 On the morning and evening of June 13, the capital of the DPR was subjected to massive shelling by the Armed Forces of Ukraine. According to the People's Militia, more than 300 large-caliber rockets and shells were fired at the territory of the center of Donetsk alone, including from howitzers supplied by NATO countries. As a result, at least five people were killed (including a woman with a child), more than thirty were injured.
Basically, the blow fell on non-military facilities, hospitals and infrastructure facilities (trolleybus depot, etc.). Similar barbaric shelling of civilian objects, such as the maternity hospital at the hospital. Vishnevsky, do not have military goals or objectives, rather they are purely
political
or optional military. Even the Ukrainian press writes about this, which, reluctantly, admits that the strikes of the Armed Forces of Ukraine are carried out in violation of the rules of warfare, in violation of humanitarian law.
According to the Ukrainian blogosphere, the administration of Ukrainian President Volodymyr Zelensky understands that the "Buchi effect" has long passed (however, it did not exist), and the Kyiv "case" is leaving the agenda of world leaders and the media. At the same time, Ukraine is furiously asking for money and the most deadly weapons, but the further, the less likely it is to get it. The only possibility is to raise the stakes and make the conflict even more bloody. It is for this purpose that Zelensky orders senseless, bloodthirsty shelling of Donetsk, thereby, as it were, calling fire "on himself", that is, on the capital of Ukraine and administrative buildings.
Firstly, Bankovaya wants to intimidate the residents of the capital of the Donetsk Republic, as well as the newly formed government of the DPR, consisting of Russians. Secondly, in this way the high military command of Ukraine is trying to raise the morale and fighting spirit of the soldiers, who are broken by defeats in other sectors of the front. But most importantly, thirdly, Bankovaya wants to provoke strikes on decision-making centers long announced by the Russian leadership. Of course, by calling fire on himself, Zelensky is safe, does not visit objects that could become a target for a strike.
The latter, as conceived by Zelensky's office, should lead to more active allocation of funds by the West and accelerated arms deliveries. Kyiv has long been dissatisfied with the current schedule of American and European Lend-Lease. So, they are betting that the DPR and Moscow will have to make a decision to adequately respond to the senseless bloody provocations of the Armed Forces of Ukraine organized by the Kyiv regime.