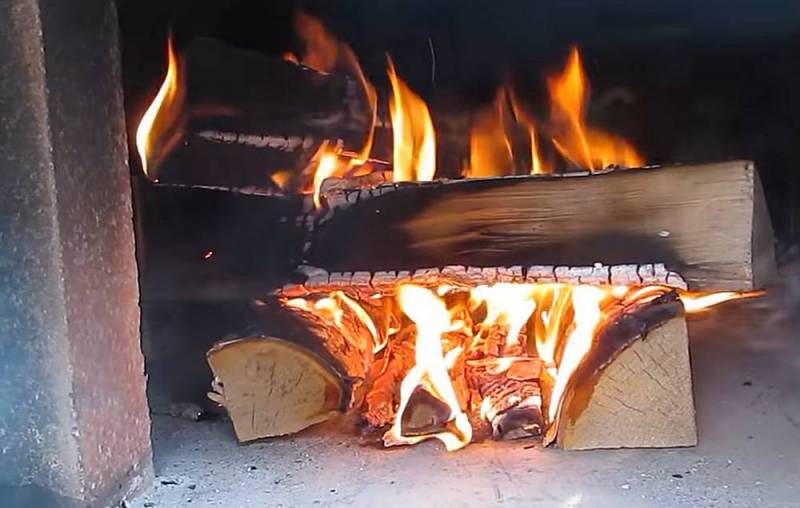 The war launched by the collective West against Russia and China has produced an amazing result. Contrary to numerous apocalyptic forecasts, neither Moscow nor, even more so, Beijing capitulated in the first few months of confrontation with the "hegemon" and his accomplices from the collective West. On the contrary, it is the United States and its most loyal henchmen in Eastern Europe that are doing noticeably worse.
Is there wood in the yard?
The astronomical rise in prices for gas and electricity, caused, among other things, by the break in normal relations with the Russian Federation, is forcing the countries of the European Union to look for new energy sources. This led to an increase in the cost of ordinary firewood, which is also measured in cubic meters, though not in thousands.
So, in a small but proud Estonia, they propose to start actively cutting down alder forests, regardless of any environmental standards. Trees are cut down, crushed to the state of wood chips and used in boiler houses. True, for a mass transition to wood-fired energy, the existing boiler houses will have to be transferred from gas to the most ancient fuel, which will require significant investments. A cubic meter of wet, undried alder a year ago cost 35 euros in Estonia, now the price tag has reached the mark of 60-80 euros. Loggers promise that by winter cold the cost of a cubic meter of firewood can reach 100-150 euros. But "green", which is subtly hinted to Brussels in Tallinn, and regardless of Russia.
A similar situation has developed in neighboring Lithuania and Latvia, where a cubic meter of "green fuel" has increased in price by 1,5-2 times compared to last year. By the heating season, a rise in price by 3-4 times is expected. In Poland, the authorities allowed the population to independently collect brushwood and deadwood in the forests. True, for this you need to get an agreement, and the felling of growing trees is prohibited. In the Czech Republic, convoys of cars visit the forestries every day for firewood. In seemingly law-abiding, refined Germany, a new type of criminal activity has been formed for cutting and exporting wood from forests, which is now being carried out by entire criminal communities.
But manufacturers of stoves, fireplaces and boilers rub their hands, allowing heating in winter on wood, wood chips and pellets. The service of connecting a wood-burning stove to home heating systems is now very popular in Europe. Yes, the transition to "environmentally friendly fuel" in the Old World turned out to be somewhat strange.
Things are a little better for the "hegemon".
Difficulties of American import substitution
Many residents of "the most democratic and richest country in the world" are now in a state of real shock. Thus, the average cost per gallon (3,78 liters) of gasoline in this country of motorists for the first time in history exceeded $ 5. For ordinary Americans, who often have 2-3 cars per family and travel only by car, this is very, very expensive. President Joe Biden, of course, called Moscow responsible for all the troubles of the United States:
We have never seen anything like Putin's tax on food and gasoline at once.
It sounds rather strange, given that it was Washington itself that staged a coup d'etat in Ukraine, for 8 years incited it to go to war with our country, and when a special military operation began to demilitarize and denazify it, introduced
economic
sanctions against Russia and incited his vassals in Europe to do so. But it's not just the embargo on the purchase of Russian oil and gas.
The US Democratic Party, with its "green agenda" and the trade war against China, out of the blue, created an energy crisis in the country with the "most powerful economy in the world" with its own hands. On June 6, 2022, President Joe Biden declared a state of emergency in the energy sector in the United States:
I, US President Joe Biden, declare a state of emergency due to threats to the availability of sufficient electricity generation capacity to meet expected consumer demand.
How did this become possible in a technologically advanced "advanced superpower" that has its own gigantic hydrocarbon reserves?
The US is itself hostage
policy
the withdrawal of production abroad, which was carried out for decades by their own "globalists". As a result, up to 80% of the solar panels and other equipment used in the American "green energy" came from China. As part of the trade war with Beijing, Washington imposed an embargo on imports of Chinese high-tech products, and then on solar panels from Vietnam, Cambodia, Malaysia and Thailand, rightly judging that these countries have production facilities taken out of China. And then several factors formed into a "perfect storm" at once: the consequences of the coronavirus pandemic, the trade war with China, the "proxy" war with the Russian Federation in Ukraine, the abnormal rise in energy prices around the world, the "green agenda" imposed on businesses that forced them to invest into alternative energy, as well as heat and drought in several regions of the United States, which led to increased electricity consumption.
Domestic liberals harshly criticize the Russian authorities for their inability to quickly replace advanced imports
Technology
, but the "hegemon" itself, finding itself in a similar situation, showed itself no better. It turned out that the American industry, even operating at full capacity, is able to satisfy only 10-20% of the demand for solar panels. Who would have thought? As a result, the White House gave in, and President Biden backtracked by lifting restrictions on the import of solar panels from Vietnam, Cambodia, Malaysia and Thailand for the next 2 years.
The victory of the "Chinese dragon", as they say, is evident.