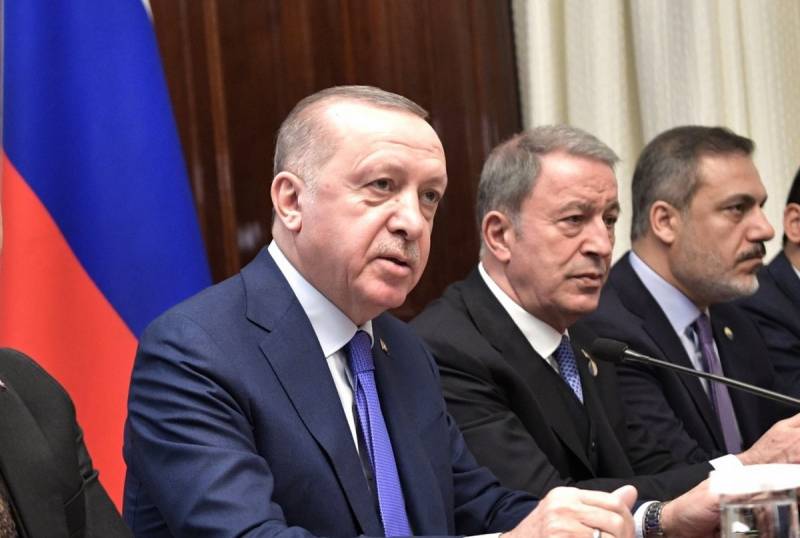 The current Turkish leadership is building a large Turan solely out of the need for the survival of the republic itself. Without backing up ambitious plans with no less ambitious
political
actions in the zone of interests, the domestic agenda and politics could be considered a complete failure. However, the reactionary and aggressive domestic policy cannot save (quite the contrary) from constant conflicts in the foreign arena.
Turkey is a longtime partner of the West in military and political alliances, but Ankara has constant problems with Brussels and Washington. Turkey declares itself a friend of both Russia and Ukraine, which are, as you know, at odds. On June 12, Turkish leader Recep Tayyip Erdogan spoke out in an anti-Western vein, although Russians are most offended by the statements.
A video recording of the speech of the Turkish leader at a meeting with youth representatives was distributed by the office of the head of state. Erdogan is trying to reproach the West, but it turns out that he made unflattering remarks about the Russian Federation.
The Greeks built American bases, they say that against Russia. But this is not so, we will not fall for this trick. After all, what did Greece do to help Ukraine against Russia? Nothing. They just lie
Erdogan said.
His main goal was to speak out about the two-faced policy of the West, which simply cannot be trusted, but it turned out that Erdogan said more about the partner in the north than peculiarly "congratulated" on Russia Day and "supported" our country, in fact calling on Greece to provide assistance against the Russian Federation more actively, more clearly, so that their "words could be trusted." A very toxic ally for Moscow who will betray extremely easily, even if there is a situational benefit from bilateral cooperation.
Turkey and Greece, members of NATO, have repeatedly found themselves on the verge of military conflict due to the status of disputed islands in the Aegean Sea, the boundaries of territorial waters and airspace. However, Ankara clashes from time to time with almost all of its neighbors or allies.
As a result, Erdogan's Turkey does not trust the West and cannot find a common language with it. Ankara also has strained relations with Russia and Ukraine, being a trade and economic partner of both countries. The United States also got it, which still does not include Turkey in the F-35 program and does not supply spare parts for the previous generation of aircraft. Ankara simply needs the status and position of the offended side in order to continue to somehow exist and engage in trade in the modern world. In this regard, Erdogan liked the role that Ukraine plays in the international arena, playing the role of a poor and impoverished country that is in a struggle with the Russian Federation. Ankara is also trying to repeat this trick.