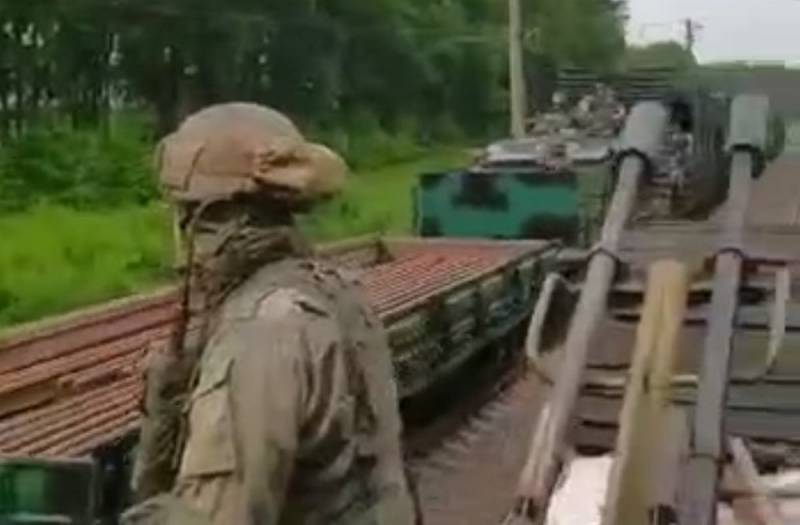 The Russian special operation on the territory of Ukraine continues, and armored trains of the RF Ministry of Defense take an active part in it. A video has appeared on the Web showing a meeting of two special combat trains in the zone of the NWO.
It should be noted that the footage was filmed by a Russian serviceman who was on one of the mentioned armored trains. The authenticity of the video is not in doubt.
What kind of monsters?
exclaims the surprised soldier.
The fighter recorded how an armored train with additional locomotive armor and two installed BMP-2s was passing by. His surprise is understandable, since the standard Russian armored trains use 23 mm anti-aircraft guns on the sides of the train as the main armament. The placement of the BMP-2 made it possible to increase the armor protection of personnel and increase firepower. Automatic guns 2A42 caliber 30 mm are more effective and significantly complicate the work of the enemy DRG.
Judging by the symbols and identification marks, the event takes place in the Kharkiv or Luhansk regions. It is there that the group "O" of the Armed Forces of the Russian Federation and units of the NM of the LPR and DPR operate. At the same time, it became known earlier that two Russian armored trains operate on the territory of the Kherson and Zaporozhye regions. Consequently, it is now clear where all four armored trains of the RF Ministry of Defense "dwell": two in the Kherson-Zaporozhye direction, and a couple more in the Izyum-Severodonetsk direction.
At the disposal of the Russian military department there are armored trains "Baikal", "Terek", "Amur" and "Don". They do not stand on a siding, but solve problems in the railroad strip, covering communications from saboteurs.