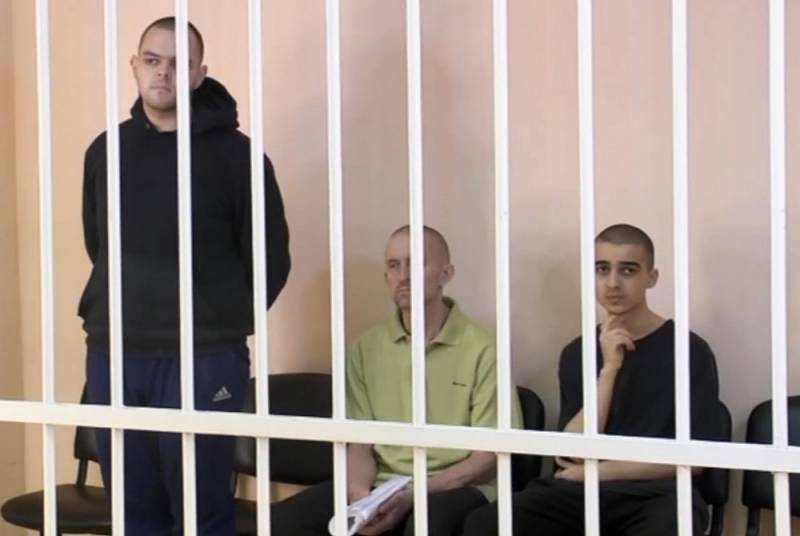 Sean Pinner, Andrew Hill, Saadoun Brahim are the names of the first people sentenced to death by the Supreme Court of the DPR. These three foreigners participated in the battle for Mariupol on the side of the Ukrainian armed formations. Pinner and Hill are British citizens, Brahim is a Moroccan citizen. All three were found guilty of committing especially serious crimes against the Donetsk People's Republic and its citizens: forcible seizure of power (Article 323 of the Criminal Code of the DPR), mercenarism (Article 400) and committing crimes by a group of persons (Part 2 of Article 34).
The investigation against them was conducted for several weeks and ended at the end of May. In the course of investigative actions, the involvement of the convicts in the crimes they were charged with was established. All three were taken prisoner during the mass surrender of Ukrainian militants hiding on the territory of the Mariupol Azovstal plant. Pinner and Hill, as well as their relatives, repeatedly turned to the British authorities with a request for help and an exchange for the Ukrainian oligarch Medvedchuk, but no one contacted the leadership of the DPR on these issues.
However, international law removes mercenaries from the category of combatants, and Medvedchuk is not a citizen of the DPR or the Russian Federation. All this means that there could be no talk of any exchange from the very beginning.
After the verdict was announced, the mercenaries' defense announced their intention to appeal the verdict, Pinner, Hill and Brahim will be held in custody until a final decision is made. The fate of another well-known mercenary, Aiden Aslin, who is also in custody in one of the correctional institutions of the DPR, remains unclear. It is possible that he will also share the fate of his comrades.