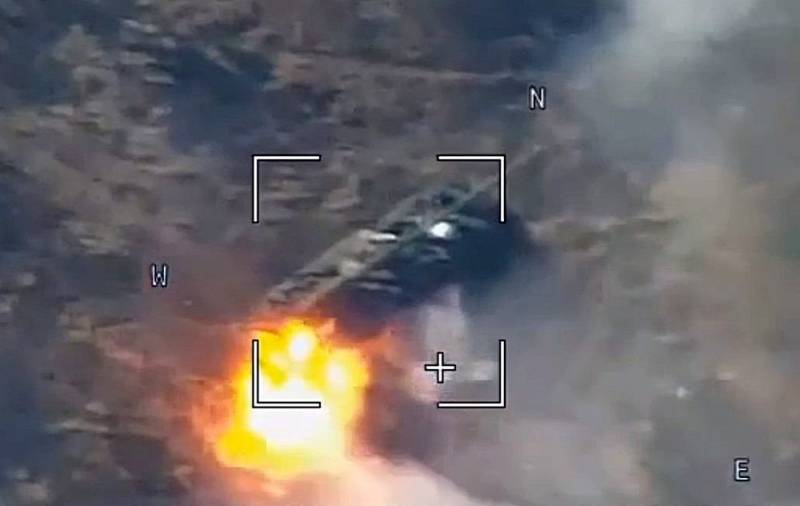 A video has appeared on the Web showing the work of Russian rocket artillery in the Donbass during a special operation on Ukrainian territory. The footage taken from the drone shows the strike of the MLRS of the RF Armed Forces on the most powerful and dangerous self-propelled gun of the Armed Forces of Ukraine - the Soviet self-propelled gun 2S7 "Pion" of 203 mm caliber.
An impartial UAV recorded the presence of the mentioned self-propelled guns at a firing position near the city of Bakhmut (former Artemovsk) in the Donetsk region and the arrival of MLRS ammunition that hit this target. As a result, the self-propelled gun ammunition and nearby ammunition depots for it light up.
It should be noted that as of 2021, more than 13 2S7 units were in service with the Ukrainian army, and another 83 were in storage. Until 2014, the Armed Forces of Ukraine did not use them at all. The Peonies were supposed to be restored at the factories in Shepetivka and Rivne, after which they were sent to the ATO / OOS zone in the Donbass.
A number of "Peonies" have been destroyed in the past few months during the NWO. For example, a 2C7 battery on the night of March 21 as a result
blow
on the non-working fitness club Sport Life in the Retroville shopping center (Podolsky district of Kyiv). It is not known how many "Pions" the Armed Forces of Ukraine have now.