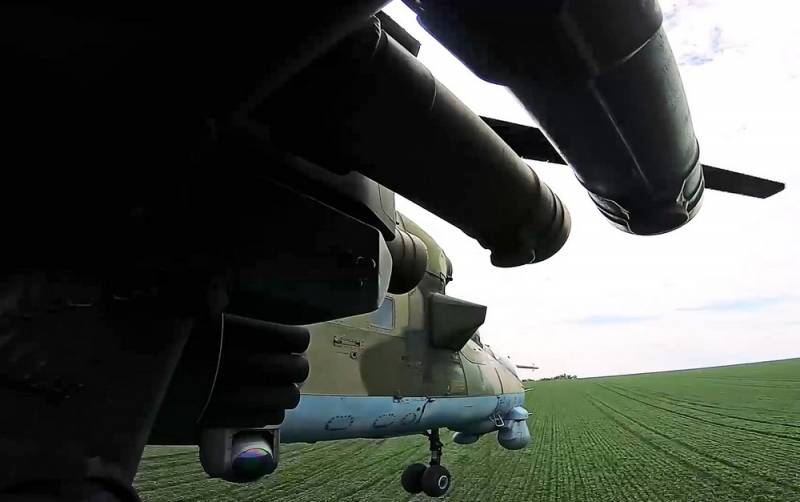 Russian special operation on Ukrainian territory continues. On June 8, the Ministry of Defense of the Russian Federation showed footage of the work of the crews of the multi-purpose (transport-combat) helicopters Mi-35M of the army aviation of the Western Military District.
The agency indicated in a communiqué under the first video that in the process of carrying out combat missions, rotary-winged vehicles destroyed the strongholds and command posts of the Armed Forces of Ukraine, as well as enemy armored vehicles with the help of their aviation weapons (ASP) - guided missiles and NARs. The footage shows the preparation for the flight and the flight itself with strikes.
The second video shows objective control frames from the cockpit of one of the helicopters, i.e. the results. Mi-35M fly up at close range and hit the armored vehicles of the Armed Forces of Ukraine almost point-blank, hitting targets.
Note that the Mi-35M is an export version of the Mi-24VM helicopter, which is a deep modernization of the Mi-24V/VP. These rotorcraft differ from their predecessors in non-retractable landing gear, which provides energy absorption in the event of a fall (before that, the crews might not have had time to release the landing gear), a shortened wing with two (instead of three) weapon suspension points, and other features. As of 2020, Russia had 60 units of these helicopters. We remind you that the NWO in Ukraine began on February 24 and, according to the leadership of the Russian Federation, will not stop until all the tasks are completed.