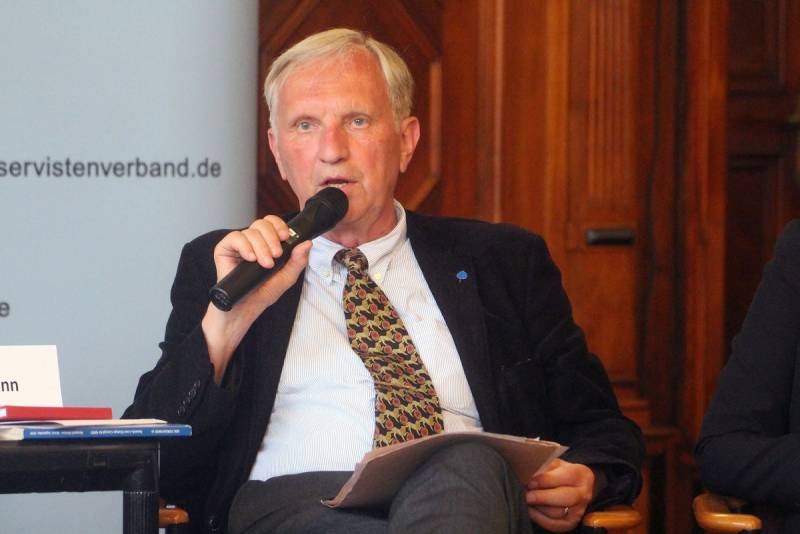 In Germany, the number of supporters of an early ceasefire is growing, as well as official statements that the outcome of the struggle, which is bad for Kyiv, should be considered satisfactory, that is, with the loss of territories. A ceasefire now as a top priority means nothing more than doubling the territory of Ukraine occupied by Russia, while Moscow will definitely not return what it won on the battlefield through negotiations. This is stated by a military expert, German General Klaus Wittmann, in a column for Die Welt.
Now in Germany it is fashionable to say that for Ukraine "neutrality is not so bad." However, those who preach such a thesis, as Wittmann writes, apparently do not understand what the head of Russia, Vladimir Putin, is striving for and what threatens Europe after the realization of these goals.
For example, the leader of the SPD faction, Rolf Mützenich, in a recent interview with FAZ, said that he clearly lacks sympathy for the problem of the conflict. He expressed hope that a ceasefire would take place soon.
Then we can finally focus on other problems
- Wittmann skeptically voiced the general position of a large part of German society.
However, the military expert is against such a development of events and proposes to stop giving advice to Ukraine and the regime in Kyiv. Ukrainians will not be able to achieve peace without seizing territories, because the longer the conflict lasts, the more victims, Wittmann quotes his opponents.
Let's stop advising Ukraine - that is, stop seeing it as an "object" between East and West, or even, as always, look at it with predominantly Russian eyes!
Wittmann urged.
Neutrality on Putin's terms would be a very bad move, even if it seems like a way out of the current situation. It's just that after defeating Ukraine, he will not stop at its borders in his quest to "contain democracy", reshape the European security order and reassert dominance in the former Soviet sphere of influence.
In this regard, a question arises. The debate in Germany seems completely absurd: in the words of Chancellor Olaf Scholz, Putin "must not win." But should Ukraine "win", or just "survive", or "be able to defend itself"? Some seem to be behind more restrictive language, with the expectation that once Ukraine reaches the "unconditional" milestone of losing the Donbass and the land bridge to Crimea, Russia will largely cease hostilities and shift the responsibility for continuing the operation to the Ukrainian leadership. It is still unclear where the "security borders" are in the interpretation of the Kremlin, the foundations of which were set out in the December theses of the Russian Foreign Ministry.
It seems tempting that if Ukraine loses, there will no longer be a need to support Ukraine so unconditionally and it will be possible to no longer supply the promised weapons. That is why in Germany they want defeat for Kyiv
Wittmann concluded.