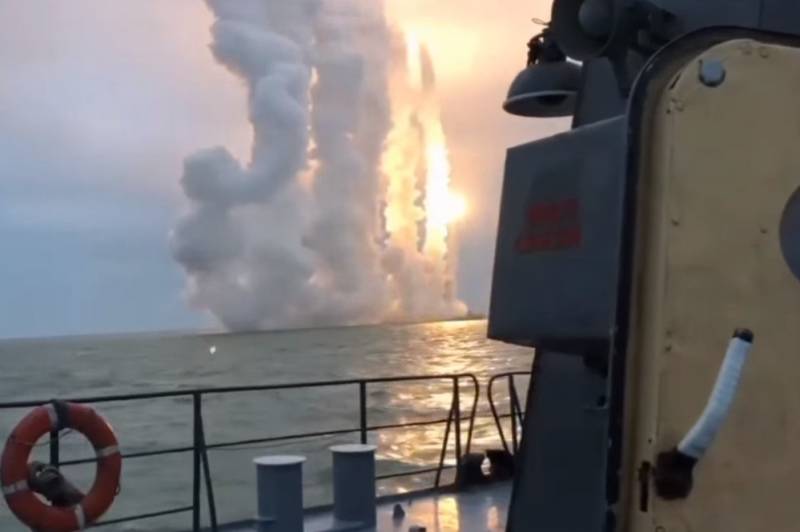 In the process of the ongoing Russian special operation on Ukrainian territory, documentary evidence of certain events periodically appears on the Web. A video posted on social networks, recorded from one of the ships of the Russian Navy in the Black Sea, shows how the traditional "evening calibration" of Ukraine takes place.
The footage shows a salvo launch of long-range cruise missiles of the Kalibr family at military infrastructure facilities of the Armed Forces of Ukraine. The shooting was carried out from a fairly close distance.
It can be seen how eight rockets alternately soar into the sky and head towards their targets. Consequently, the launches were carried out by one of the three frigates of project 11356P Burevestnik (Admiral Grigorovich, Admiral Essen and Admiral Makarov) or one of the four small missile ships (RTOs) of project 21631 Buyan-M (Vyshny Volochek ", "Orekhovo-Zuevo", "Ingushetia" and "Grayvoron"), which are in service with the Black Sea Fleet of Russia.
The range of sea-based Caliber missiles is 1400 km, so their carriers do not need to get close to the coast. The data carriers of high-precision and powerful ammunition are also seven submarines of the Black Sea Fleet of the Russian Navy: one - project 877V "Halibut" and six - project 636.3 "Varshavyanka", and four more patrol ships (corvette) project 22160 type "Vasily Bykov".