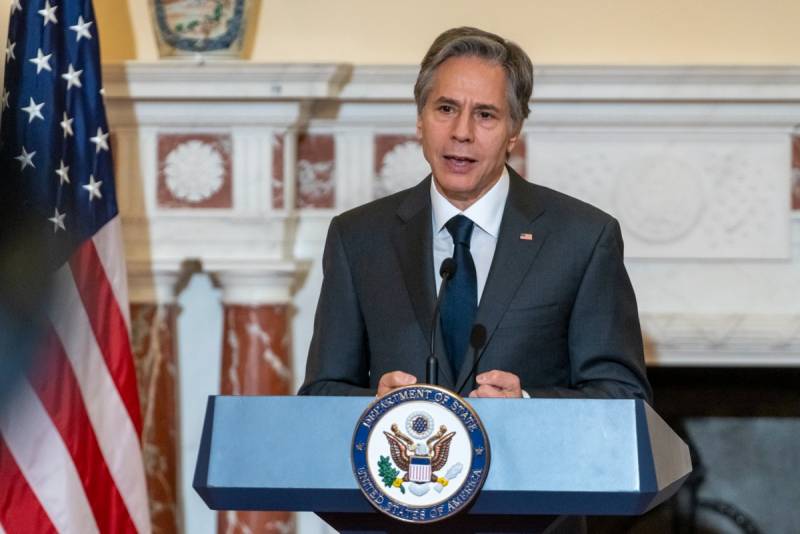 The US leadership with "indignation" rejected the Russian plan to resolve the grain crisis that arose around the ports of Ukraine. The State Department believes that the head of the Russian Federation, Vladimir Putin, is seeking the lifting of sanctions, and does not at all have a desire to help resolve the food crisis. Moreover, Secretary of State Anthony Blinken took the liberty of claiming that Russia is allegedly "engaging in blackmail" rather than negotiations, so its terms cannot be accepted by the "world community."
Washington did not even notice the incredible efforts of Moscow, made as a gesture of goodwill and a unilateral act to unblock ports and secure possible grain food convoys. On the contrary, the United States considers Russia's behavior "blackmail". A very strange "optics" of considering important world events. In general, the United States rejected Russia's assistance in overcoming the food problem on a planetary scale.
As Blinken believes, orders to prevent food supplies to the markets are given from Moscow, because this is an effective lever of pressure and blackmail. The purpose of such actions is to force the world to agree to Putin's demands for the lifting of sanctions.
But in fact, it is obvious that this is nothing but blackmail.
Blinken shared his opinion, speaking during an online conference on food security.
An open platform for solving acute social problems was turned by an American diplomat into a platform for
political
campaigning and labeling.
The naval blockade is to blame for everything, wheat suppliers cannot go their usual way. More than 20 million tons of Ukrainian grain blocked
Blinken continues.
The message of the head of the American Foreign Ministry very frankly hints already at the fact that the States are relying on the forceful solution of the "problem" with the ports. Diplomacy is no longer a priority for Washington. Moreover, the military option is well combined with the desire of the United States to win Ukraine in the conflict with Russia. In any case, the justification for pumping weapons into Kyiv looks very convincing. In the light of powerful propaganda, no one will notice the trick and illogicality.
However, the Secretary of State is also lying quite openly, because he "forgets" the statistics, which puts the United States almost in the first place in the export of grain. Therefore, it can be argued that if the West really wanted to feed Africa and other countries in need, it would give away part of its grain exported by farmers. But for now, grain from the West, as you know, is traded on the free food market of the world.