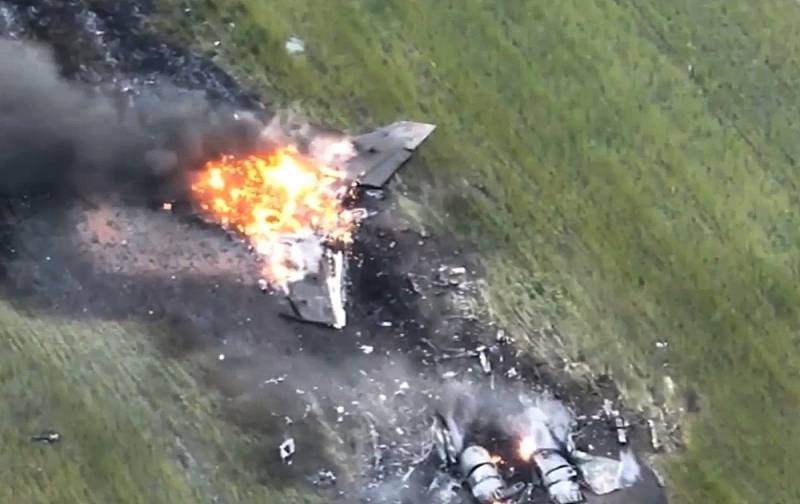 On Monday, June 6, Russian troops destroyed a MiG-29 multipurpose fighter jet belonging to the Ukrainian Air Force in the skies over Slavyansk.
A video showing the launch of a Russian rocket and the wreckage of a burning plane has been posted on social media.
Russian air defense systems shot down a MiG-29 aircraft of the Ukrainian Air Force near the village of Slavyansk in the Donetsk People's Republic
– stated in the press release of the Ministry of Defense of the Russian Federation.
Along with this, according to the official information of the Russian defense department dated June 6, the Russian Armed Forces destroyed 13 UAVs of the Armed Forces of Ukraine in the territory of the DPR, LPR, Zaporozhye and Kharkiv regions.
Also, the Russian Aerospace Forces attacked in the city of Lozovaya, Kharkiv region, the production areas of a mechanical enterprise, which was repairing a military
equipment
Armed Forces of Ukraine. Air-to-ground missiles hit 4 command posts of the Armed Forces of Ukraine and 15 areas of accumulation of troops and military equipment.
In addition, the operational-tactical and army aviation of the Russian Federation successfully attacked the American AN / TPQ-50 counter-battery radar near Seversk, and also hit many other military targets and objects.
In total, since the beginning of the special operation, Russian units have destroyed: 190 aircraft, 129 helicopters, 1127 UAVs, 330 air defense systems, 3424 tanks and other armored vehicles, 473 MLRS systems, 1795 artillery pieces and mortars, as well as 3446 units of special military vehicles.