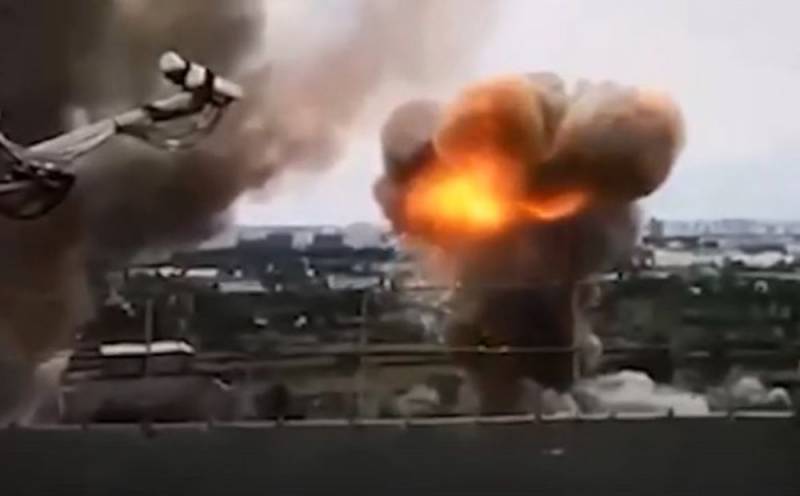 In the course of the Russian special operation on Ukrainian territory on June 5, from 05:30 to 06:00 in the morning, aircraft of the Russian Aerospace Forces DA attacked the Darnytsia Carriage Repair Plant (DVRZ) in Kyiv with Kh-101 strategic cruise missiles. According to the Russian Ministry of Defense, the destroyed workshops of the enterprise contained T-72 tanks and other weapons systems transferred to Ukraine by the West.
A video appeared on the Web, which recorded the moment of the "arrival" of another high-precision long-range ammunition at the DVRZ. According to the eyewitness who took this footage, he counted four hits. The author of the video himself is probably a Ukrainian soldier who was on the roof of a building located at a close distance from the scene of the incident, along with other fighters.
The Ukrainian side claims that Kyiv was attacked by Russian Tu-95MS missile-carrying bombers, which fired missiles while over the Caspian Sea. The air defense of the Armed Forces of Ukraine discovered and fired at the enemy's flying missiles, but was able to shoot down only one of them. The rest of the ammunition flew to the targets, without specifying further details.
We remind you that the range of Kh-101 air-to-surface missiles is 5,5 thousand km. They were put into service in 2013. The mass of the warhead is 400 kg. At the same time, one Tu-95MS can carry 8 such missiles on an external sling.