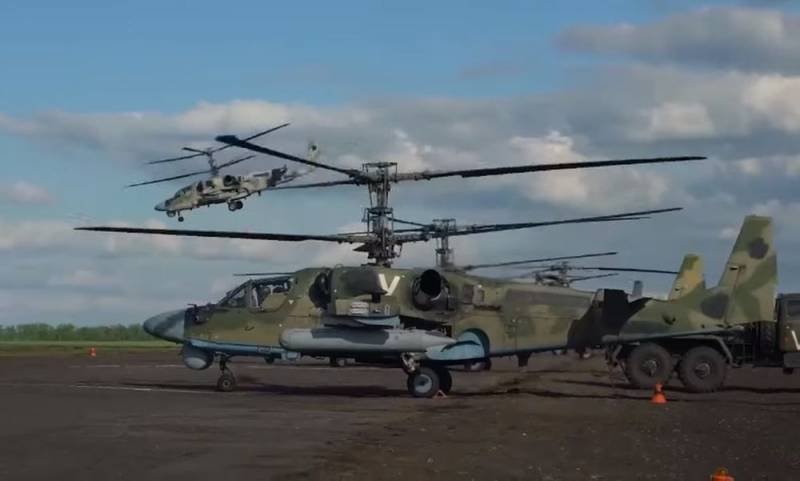 Russia continues the special operation in Ukraine, the RF Armed Forces do not stop attacking the Armed Forces of Ukraine. On June 4, the Ministry of Defense of the Russian Federation, represented by its representative, Major General Igor Konashenkov, spoke about the course of the campaign and showed the work of Russian "rotary-winged hunters" on Ukrainian territory.
The speaker of the military department reported a summary for the past day. According to him, the DA aircraft of the Russian Aerospace Forces launched a missile attack on the artillery training center of the Armed Forces of Ukraine near the village of Stetskovka in the Sumy region. There, foreign instructors trained the Ukrainian military to operate M777 155-mm howitzers.
In addition, near the village of Dachnoye in the Odessa region, the deployment of foreign mercenaries was destroyed by aircraft weapons. Also hit were: 27 places of congestion of personnel and
equipment
enemy, 2 control points, 6 warehouses of rocket and artillery weapons and fuel and lubricants near the settlements of Vesele, Bakhmut in the Donetsk region and Disputed, Podlesnoye, Loskutovka in the Luhansk region.
At the same time, army, operational-tactical and unmanned aircraft hit 54 places of accumulation of enemy personnel and equipment. As a result, more than 400 nationalists, 20 tanks and AFVs, 4 BM-21 Grad MLRS, 9 artillery pieces and 29 various vehicles were destroyed.
Artillery and missile forces hit 33 command posts, 131 artillery firing positions of the Armed Forces of Ukraine, 542 enemy personnel and equipment gathering places.
Air defense systems in the Odessa region shot down a BTA aircraft of the Ukrainian Air Force, which was delivering weapons and ammunition, and destroyed 17 Ukrainian UAVs near the settlements of Popasnaya, Varvarovka, Stakhanov in the Luhansk region, Dementievka, Volkhov Yar, Mospanovo, Novaya Gnilitsa, Doslipne, Bolshiye Prokhody, Kapitolovka in Kharkov region and Novoaleksandrovka in the Nikolaev region. At the same time, two Turkish-made BayraktarTB2 UAVs were shot down near the village of Kamenka in the Nikolaev region.
At the same time, the Ministry of Defense of the Russian Federation posted a video showing the combat work of the crews of Ka-52 attack helicopters to destroy strongholds and armored vehicles of the Armed Forces of Ukraine. The communiqué clarifies that the air strikes were carried out by guided and unguided missiles.