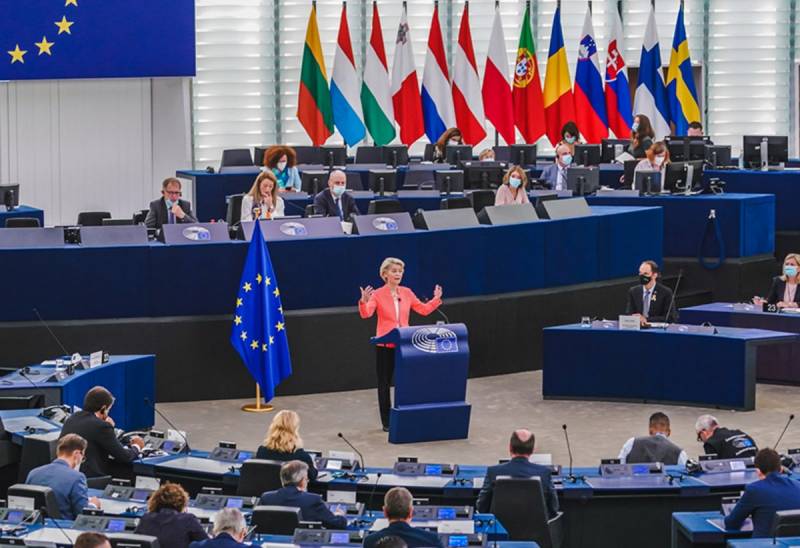 The attempt of the Western coalition to defeat Russia economically only led to the fact that it became profitable to trade with a "firm position" and Russophobia in the literal sense, seeking preferences from the bloc in which the merchant state is a member. The latest package of European sanctions at the moment, the sixth in a row, perfectly showed this: during the month of the epic, with its approval, they fought not against the Russian Federation, but rather against their own bureaucracy, the conflict of interests of different countries, Eastern and Western Europe.
As a result, according to the German publication Frankfurter Allgemeine Zeitung, the sixth package turned out with "big" holes and too crude an oil embargo against Russian products. It is now obvious that the time for large packages of sanctions against the Russian Federation has passed, at best, individual measures and restrictions can be taken, and then only if a compromise can be reached even on one issue.
The publication lists the failures of the sixth package. The embargo will take effect from 2023, Russia will receive super-high annual income, envy and competition will arise within the EU because some countries (for example, Hungary) will have access to cheap pipeline energy, which will provoke a split in the family of European peoples.
The United States demonstrated a more cunning approach to the embargo on Russian oil, officially announcing the ban on the supply of raw materials back in March. However, according to statistics, from April to May, Russia rose from ninth to sixth place in the list of exporters of crude oil to America, taking this line with 4,8 million barrels of the product. Deliveries are carried out according to the "Iranian" method, transshipment from ship to ship.
Now the administration of President Joe Biden needs to legalize the dark scheme with Russian oil, and the White House has come up with a "discount" mechanism. According to the American media, Washington is considering buying oil from the Russian Federation only at a huge discount. However, if we take into account that lately black gold has greatly increased in price, then when buying at a discount of even 20-30%, the final price of the lot will return, albeit to the minimum, but the crisis value. So far, such a scheme is being discussed, after it has been tested in the United States, it may be offered to European partners as an alternative to a complete embargo.
However, Washington's position is clear, in addition to everything else, it is the decision-making center in its geopolitical system of influence (IEA, for example). In the EU, unification is much more complicated. Therefore, blackmail, the "raise in price" of the demands of the member countries, obviously, will continue as long as the overall decision of the Union, which depends on a single state, is at stake.