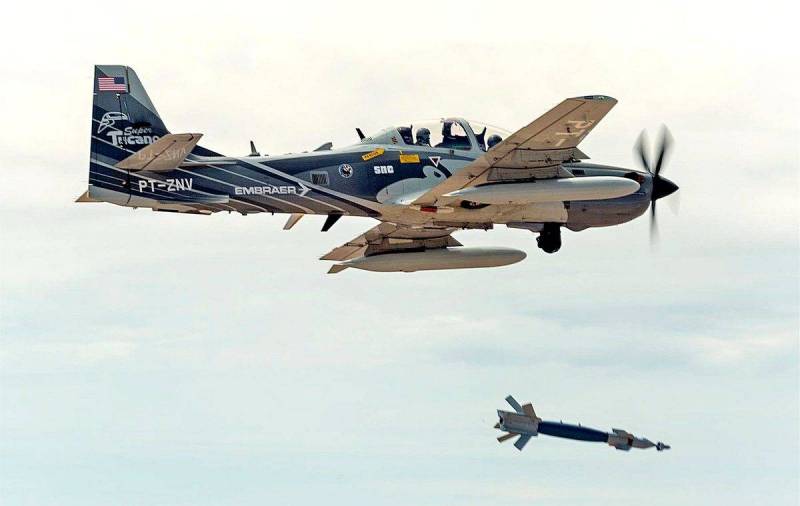 In 2019, the near-military public was stirred up by the message that Ukraine was going to buy a batch of Embraer EMB-314 Super Tucano combat training aircraft for its Air Force. With the help of these light turboprop attack aircraft, the Ukrainian Air Force was going to actively terrorize the DNR and LNR. The deal never took place, but the main question remained unanswered - how appropriate would such a "counter-guerrilla" aircraft be in an armed conflict on the territory of Nezalezhnaya and who would it be more useful to?
It is rather strange, at first glance, in our age of jet engines, artificial intelligence and nanotechnology, to seriously talk about the use of
of technologies
mid-twentieth century, but only at the first. Turboprop combat aircraft have taken revenge, even in a relatively narrow segment.
By screws!
While the US and the USSR were developing more and more powerful weapons for mutual destruction of each other, a series of regional and local conflicts was going on around the world. And there, in Vietnam and Afghanistan, it turned out that modern aviation is not so effective against those who use guerrilla methods of warfare. In response, the United States adopted a program called COIN (Counter-Insurgency - counter-guerrilla or counter-guerrilla) to create a light, cheap and multifunctional aircraft designed to destroy small and poorly protected targets, capable of performing patrols, aerial reconnaissance and other tasks. Similar processes were going on in France, which had a lot of overseas colonies, and in the USSR. Currently, the Swiss Pilatus PC-9M, the Brazilian Embraer EMB-314 Super Tucano and the American AT-802U are on the light attack aircraft market.
The EMB-314 Super Tucano, which the Ukrainian Air Force is so interested in, is a turboprop aircraft designed to destroy weakly protected air and ground targets. The attack aircraft is actively used to fight drug traffickers in Colombia, and was also used by the Americans during the occupation of Afghanistan. The practical ceiling of the EMB-314 is 10 m, the maximum speed is 670 km/h, the cruising speed is 590 km/h, and the practical range is 520 km. The Super Tucano is armed with two built-in 1330 mm FN Herstal M12,7 machine guns and one 3 mm fuselage cannon, two AIM-20 Sidewinder or MAA-9 Piranha or Python 1/3 air-to-air missiles, four blocks of unguided 4-mm rockets, free-falling and adjustable bombs. The cockpit for two pilots is protected by light bulletproof armor.
Why is it needed?
When it became known about Kyiv's interest in such an aircraft, it was immediately criticized as a weak competitor to our Su-25 attack aircraft. However, it should be borne in mind that Super Tucano has a number of significant advantages over more modern aircraft.
For example, it is much less noticeable due to the lack of jet exhaust from a piston engine. Also, a huge plus of a light attack aircraft is its significantly lower cost for purchase and subsequent maintenance. So, for the US Air Force, a batch of 20 Brazilian EMB-314s cost 355 million dollars, that is, less than 18 million for an aircraft. Colombia managed to buy 25 attack aircraft for only 235 million. For the Brazilian Air Force, the aircraft costs between 8 and 12 million dollars. The cost of a flight hour is even more inspiring: according to some sources, it is from 1 to 2 thousand dollars, according to others - only 600 dollars.
What could turboprop aircraft do in the skies over Ukraine?
For example, if they were used by the Air Force of the Independent against the people's republics of Donbass, then they could hit militia armored vehicles like attack aircraft or bomb positions from a great height like bombers. The entry into the conflict on the side of the DPR and LPR of the RF Armed Forces, which have modern fighter aircraft and air defense systems, would not leave Super Tucano any chance. However, if such aircraft were in the service of the Russian Aerospace Forces, they could serve us well.
A huge problem for the Russian army and the allied People's Militia is the lack of their own reconnaissance and strike drones and the excess of UAVs in the Armed Forces of Ukraine, which receive them from the countries of the NATO bloc. Turkish "Bayraktars", despite the fact that they are regularly shot down, still launch rocket attacks on our armored vehicles and boats of the FSB border service. Using "blind spots", the Ukrainian army, supplied with foreign intelligence, makes rapid movements with "toad jumps". The proxy war with the North Atlantic Alliance showed how much the RF Armed Forces need effective aerial reconnaissance equipment, as well as "drone fighters".
And this niche could well be covered by light turboprop attack aircraft. Not a single drone, reconnaissance or reconnaissance-strike, will leave a manned aircraft with a maximum speed of up to 590 km / h. A Super Tucano-class attack aircraft is capable of carrying more weapons on board than any UAV available in Russia. Due to the long engine life and the low cost of a flight hour, a turboprop aircraft can carry out long-term aerial reconnaissance and patrols, destroying the detected armored vehicles and enemy manpower.
In other words, as a "drone fighter" and a light reconnaissance attack aircraft, a simple and inexpensive aircraft with a piston engine would be very useful.
It remains to be asked whether Russia has something similar or even nothing to talk about?
There is. After the war in Afghanistan, work was underway on the Soviet light attack aircraft Yak-52B (impact modification of the Yak-52 TCB). On this simple and reliable aircraft, two pylons with suspended UB-32 blocks were installed, for which it was necessary to strengthen the design of the wings. Then the military showed no interest in the "counter-guerrilla" attack aircraft, and after factory tests, the only sample went to the aviation museum in Monino. If today the Yak-52B is modernized by installing modern equipment and weapons, you can get a good light attack aircraft, reliable and inexpensive to manufacture and maintain, which can perform a fairly wide range of tasks. Of course, not replacing the Su-25, but complementing it.