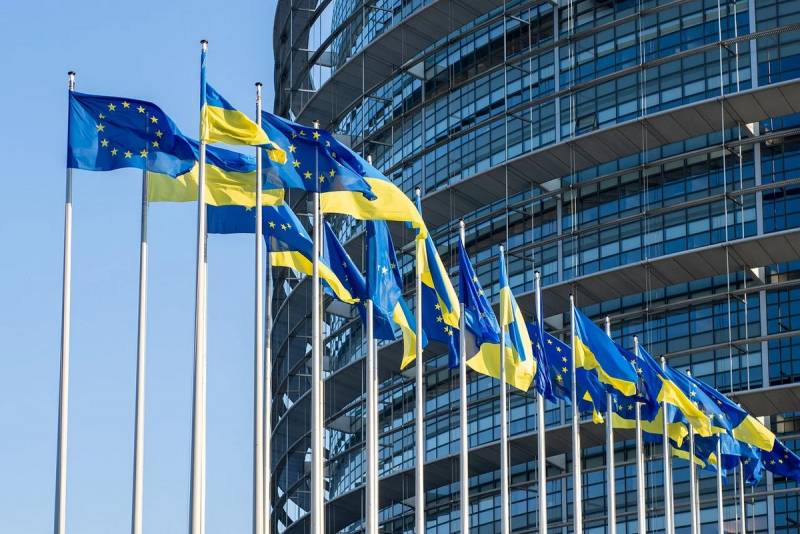 It took more than a month for the European bureaucracy to reach a tentative consensus and pass an incredibly truncated, compromise, lightened sixth package of sanctions. Its provisions were only miraculously agreed upon at the big EU summit taking place these days in Brussels. However, despite the "creative" exhaustion of principles and ideas for future restrictions on Russia, Europe has already started talking about the seventh package of restrictions, which will be discussed in the very near future and will begin to search for new sanctions. This is stated by the Prime Minister of Estonia Kaja Kallas.
The politician directly admits that there is nothing to discuss, it is necessary to turn on "fantasy", since there is almost no room for new measures and free options. Except for one, of course, when it comes to Russian gas. According to Kallas, the inclusion of restrictions or an embargo on raw materials from Russia in the seventh package of sanctions is extremely unrealistic. In this situation, this is simply not possible.
Further adoption of new sanctions will be even more difficult than before. Until now, European restrictions have hurt Russia, the current package already affects the interests of the EU, and the next one will be directed almost against Europe itself.
- said the head of the Estonian government.
Kallas emphasizes that it was almost impossible to agree on an embargo on Russian oil for a long time. Attempts to eliminate Russian gas from the European market may be completely doomed to failure, which will negatively affect the unity of the EU and skepticism about the union.
In addition, even a discussion of the problem of the seventh package of sanctions, which, as it seems, should be adopted exclusively "on schedule", and not out of necessity, will cause a sharp jump in natural gas prices and lead to its rise in price several times over. The price of $1000 per thousand cubic meters may later seem to be simply the cheapest and most affordable.
By the way, Serbian President Aleksandar Vucic is already warning about something similar, predicting by the winter of 2022 the cost of gas at the level of 3,5-5 thousand dollars per reference volume. Therefore, in general, the rush of European officials to discuss the seventh package, moreover, with the topic of Russian gas (there is simply no other option), will lead to disaster, when the excitement of traders on the market will really drive up the cost to sky-high values.