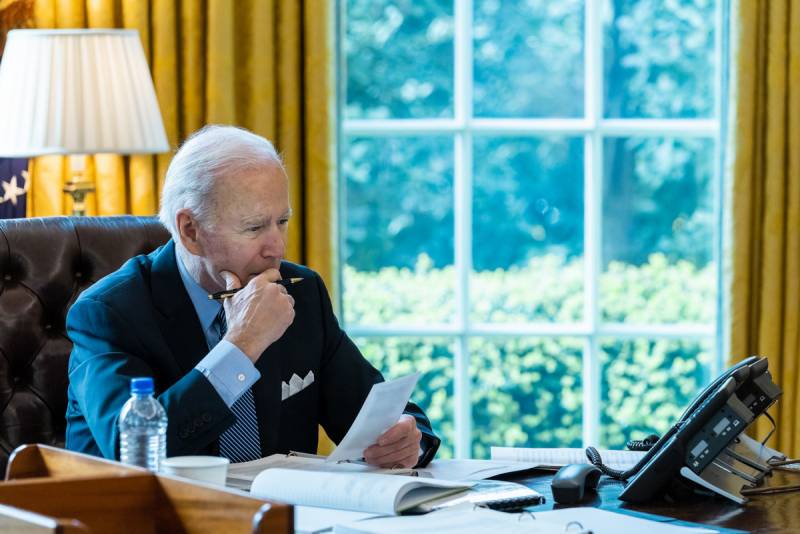 The administration of US President Joe Biden opposed the confiscation of the frozen assets of the Central Bank of Russia. Discussions on this topic, regarding joining European efforts to confiscate and redirect funds to the needs of Ukraine, are beginning to fade in the States. According to the New York Times, America's major resistance stems from the extraordinary legal and reputational losses that the US could face in pursuing the gamble. However, in fact, Washington's fears have a different basis.
Of course, the fear of losing the status of a reliable investment partner and thereby undermining the global position of the dollar as the main and reserve currency is also taken into account by US financiers, but the more serious reason for the reluctance to help Europe realize the threat against Moscow is that the White House does not want to spend huge amounts to Ukraine. Simply put, Washington is not averse to using confiscation, but only to its advantage.
In Europe, by the way, this hint of the owner from across the ocean was well understood and also began to show restraint on this issue. Active appeals are heard only from openly Russophobic countries, such as Poland. The recommendations of the US leadership are understandable: part of the frozen assets is deposited not only in American banks, but also in Switzerland. Therefore, the entire tidbit of the big pie is still under the jurisdiction of allies in the EU.
The fact that the head of the European Commission Ursula von der Leyen allowed the possible confiscation of the assets of the Central Bank of Russia frozen in European banks in favor of Kyiv, but subject to the end of hostilities and the beginning of large-scale reforms in Ukraine, also speaks about the reversal to "moderation" of Brussels. Only then can the question be answered positively. Although a little earlier, the opinion of the EU members was not divided and was unconditional.
It can be assumed that the image of a kind and fair hegemon is now very necessary for the United States as a reserve for the future. Now the main thing for Washington is to push through the first part of the confiscation decision, but without the condition of transferring it to Ukraine. The Biden administration hopes that a positive image will eventually make it possible to receive the coveted $200 billion frozen in the EU (in the US, up to 100 billion of Central Bank assets fell under sanctions) in the form of European investments. In this form, it is possible to ensure at least the formal legality of the expropriation of someone else's property, as well as to obtain what is de jure now inaccessible and under foreign jurisdiction.