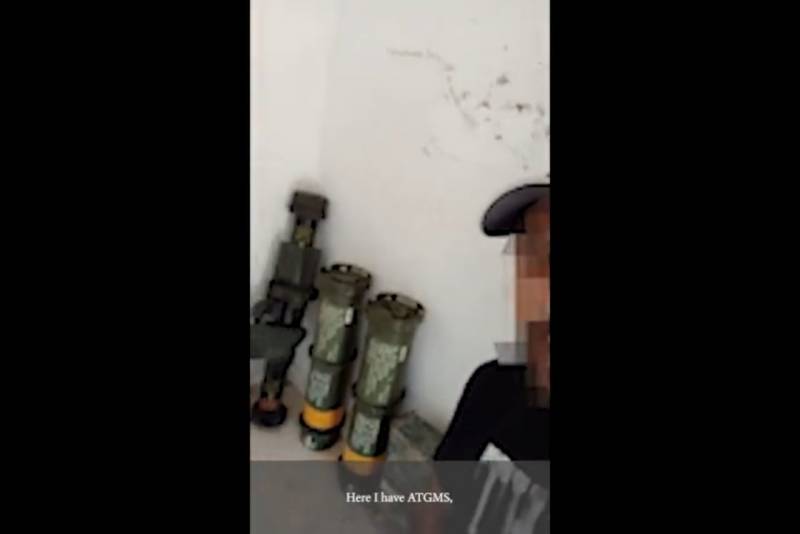 On May 30, a short video was posted on one of the Western social networks banned in Russia, in which a Syrian smuggler shows his purchases in the "Ukrainian military store" for militants in Syria, because they are often forced to use handicraft weapons. The administration of the social network promptly removed this practically commercial at the request of users from Ukraine, however, screenshots from it are now circulating on the Web.
The smuggler proudly boasted of the "assortment". Now he has British NLAW ATGMs, disposable Israeli-Singaporean Matador anti-tank grenade launchers of 90-mm caliber and other attributes that every self-respecting jihadist needs in the household. He clarified that the mentioned ATGMs (erroneously calling them American Javelins) were purchased for only $15.
The author spoke with a strong Syriac accent, which is difficult to fake, indicating a high probability of veracity. In addition, the lightning-fast reaction to the video also confirms the weight of the arguments set forth in it.
In turn, Kyiv insists on its own version. The Ukrainians claim that the Russians are trying to discredit them in the eyes of their Western friends, who
fix
numbers of literally every cartridge sent in the form of military aid. Allegedly shown weapon systems are trophies that went to the Russian army and its allies in the Donbass after the practically organized withdrawal of Ukrainian troops from their positions. These trophies were specially airlifted to Syria and now the Russian military can shoot videos of smugglers and detained Islamists if they want. That is why the numbers on the weapons will match those recorded by Western partners, but Ukraine is not to blame for anything.
At the same time, a large number of Western experts began to unanimously remind their governments that a few months ago, when large-scale arms supplies to Ukraine began, they warned of possible problems. Analysts had no doubts that sooner or later a part of the supplied Armed Forces of Ukraine would end up in the hands of those who would direct these weapons against the West.