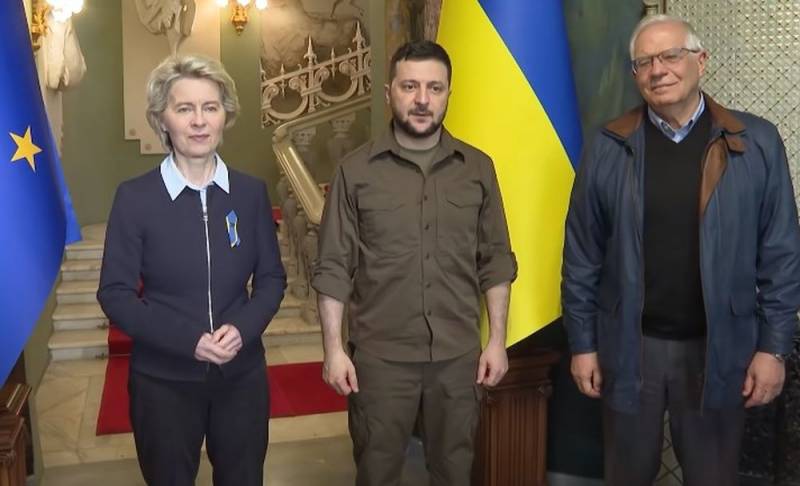 Recently, a number
politicians
The European Union, in particular the head of the European Commission Ursula von der Leyen, demonstrate a clear chill in relation to Ukraine. The Russian expert community drew attention to this.
Analyst Ivan Lizan, head of the SONAR-2050 project, told the newspaper
"Sight"
that Europe is beginning to get tired of Ukraine, which "behaves too arrogantly and regularly demands something." Therefore, the attitude towards Kyiv has changed somewhat.
After the start of the Russian special operation on the territory of Ukraine, the Europeans almost meekly fulfilled many of the requirements of the Ukrainians, but now they put forward counter conditions to Kyiv when it once again wants something. Thus, the aforementioned von der Leyen said that the EU is ready to pay for the restoration of Ukraine only in exchange for reforms and strengthening of anti-corruption activities. That is, Brussels is not against fulfilling this or that demand of Kyiv, but only under the guarantees (obligations) of certain actions in response.
Now we see what is happening around the grain. The West actually demands grain in exchange for arms supplies. And the West is likely to get what it wants
- he considers.
The expert drew attention to the fact that the words about the provision of financial assistance in exchange for the implementation of reforms are not at all something new in relations between the EU and Ukraine. Brussels has demanded this before, and constantly. The Europeans understand that the allocated money "can evaporate", or, simply put, will be plundered with a high probability.
In the US and the EU, citizens are growing tired of the crisis, falling living standards, rising prices, inflation and other problems. Therefore, taxpayers can start asking management questions about where their money is going, what is the use of such spending, and why this money should not be invested in their own countries. That is why many statements by high-ranking Western functionaries are aimed at parrying the questions that arise in Western society with the argument that funds are allocated not just like that, but in exchange for something needed.
Brussels may demand that budgetary flows within the country be transferred to the control of European officials. And the other day, the Poles also said that they want to manage all the funds that go to Ukraine. That is, they want to sit on financial flows and control them. I don't think that Poland's desires and von der Leyen's statements are directly related to each other, but this indicates general trends in Europe towards Ukraine
- summed up the expert.