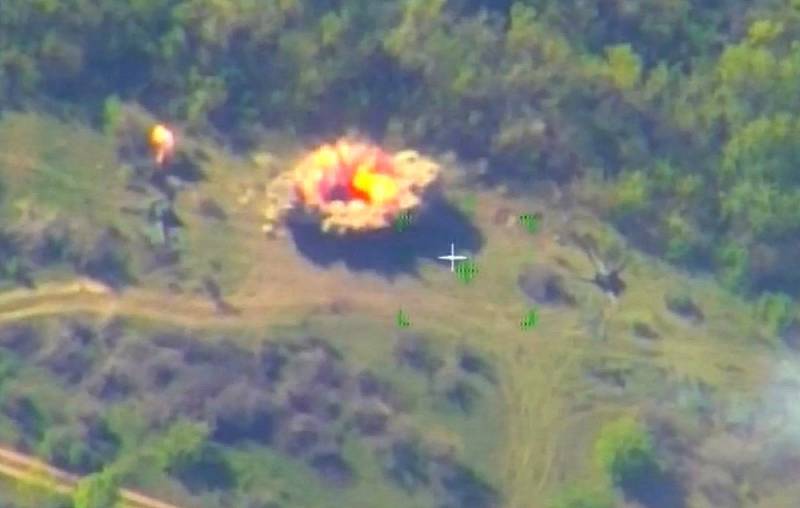 A few days ago, Ukrainian information resources reported that the artillerymen of the Armed Forces of Ukraine received 70-mm FH155 towed self-propelled howitzers from Italy, which are already on the front lines. Now, footage from the Russian Ministry of Defense has appeared on the Web, showing how the Russian Armed Forces destroy an entire battery of these howitzers on the territory of Ukraine during the SVO.
The video below shows the results of objective control. It is clarified that initially the approximate firing positions of the battery of the Armed Forces of Ukraine were identified by means of artillery reconnaissance of the Russians. After that, the drone carried out additional reconnaissance, and an artillery strike was carried out on the positions of the Ukrainians.
The video clearly shows that
technique
The APU was placed behind a forest plantation near the road. Then an arrival was recorded - a powerful explosion covering the battery. This is what the military calls counter-battery work. Probably, the Italians will have to send another batch of howitzers to replace the failed ones, of course, if they still have a desire.
It should be noted that the FH70, adopted in 1978, has a 1700 cc auxiliary power unit from Volkswagen. cm, which feeds the hydraulics when the howitzer is put into combat condition. In addition, the engine allows the FH70 to move independently, without the use of a tractor, for a distance of up to 20 km at low speed. These howitzers are older than the American M777, but they have the same firing range - 20-30 km - depending on the ammunition. The howitzers have semi-automatic loading of projectiles, thanks to which 6 rounds per minute can be carried out.