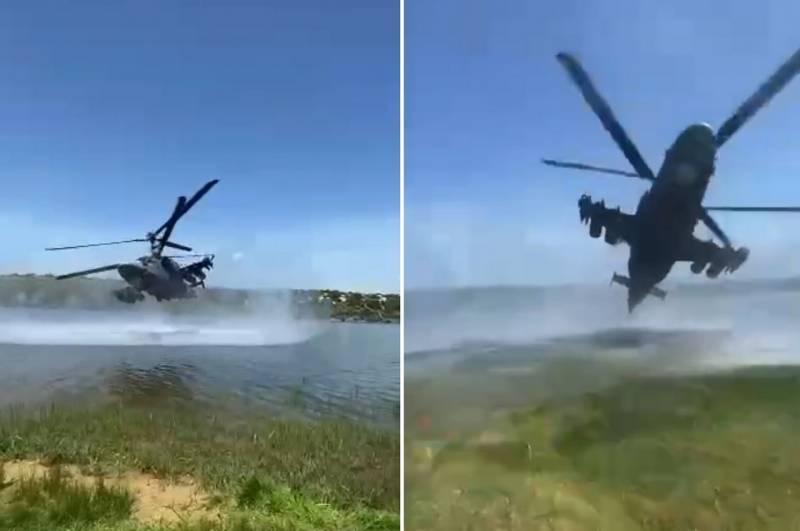 A video appeared on the Web showing how the Russian Ka-52 Alligator attack helicopter is training, entertaining the residents of the LPR along the way. The Russians appreciated the footage in which the pilot demonstrated the dangerous maneuvers of the rotorcraft just a meter from the water.
It should be noted that in the course of the special operation of the RF Armed Forces on Ukrainian territory, helicopters have to fly close to the ground in order to avoid the radar and air defense systems of the Armed Forces of Ukraine. Pilots need somewhere to train, so they choose places where there are few people in order to minimize risks.
Oh, hung up again. It's funny. Here is a joke
says an admiring eyewitness filming the video.
The shots really turned out to be quite spectacular and interesting, although they looked dangerous. The laughter of the eyewitness and the people around is heard. At the same time, during the execution of the mentioned maneuvers, a second helicopter was constantly nearby for safety reasons, the crew of which was observing and was ready to provide assistance.
Users of social networks also did not remain indifferent to what they saw.
The best pilots!
– wrote Maria Rokossovskaya.
You can't buy skill!
- said Evgeny Milashchenko.
Head in war must be cold
- says Oleg Kondratiev.
Dangerous, however! Almost scratched the surface
Ivan Sobenin drew attention.
Here is the hooliganism (approval gesture - ed.). Beautiful, flyers!
- summed up the Dog of the Regime.
The only helicopters in the world that are not afraid of water
- Alexander Chernomor wrote, hinting at the "Alligator".
I like such a good, powerful combat
technique
that helicopters, that planes. Power and beauty. Still, in nature it is somehow arranged in such a way that what is perfect and effective is always beautiful.
– Zebra Super shared his opinion.