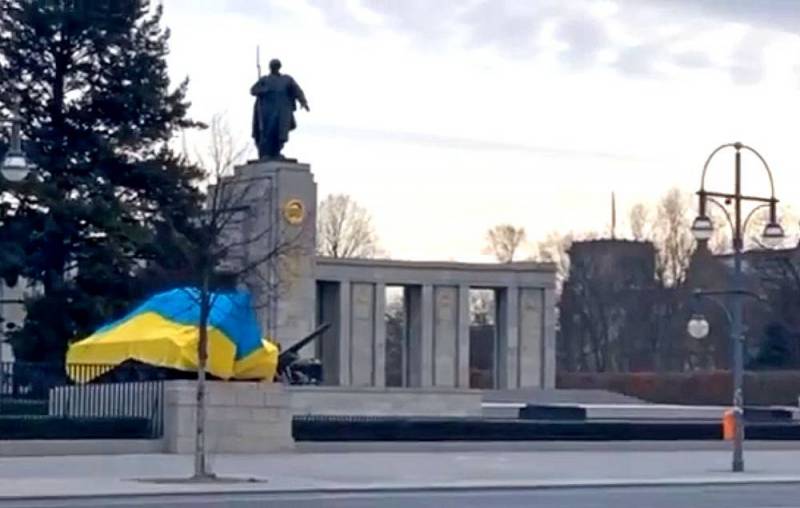 Many residents of Germany, who sided with the Kyiv regime, express support for Ukraine and at the same time - hatred towards Russia. It was in recent weeks and months that Germany was filled with the poison of Russophobia. This is written by Ulrich Heiden, who has lived in Moscow since 1992 and arrived on the eve of May 9 in the homeland of his ancestors. The story of the German was placed on its pages by the German newspaper Die Junge Welt.
First of all, Hayden was struck by the abundance of anti-Russian and pro-Ukrainian propaganda in the form of billboards and billboards on the streets of Berlin. One of them was emblazoned with a monstrous quote from the President of Ukraine - "Zelensky: Putin will fall, as Hitler fell."
I felt dizzy, as if I had been hit ... Pro-Kiev propaganda is thought out to the smallest detail
Hayden noted.
A native of Germany planned to lay flowers at the graves of Soviet soldiers in Treptow Park. At the same time, he was struck by a sign with a ban on wearing St. George ribbons inscribed on it. It was also forbidden to display flags with "Russian and Ukrainian motifs" and to sing military and marching songs in Russian.
Meanwhile, since 2014, some German publications have not been covering Ukrainian events very objectively, hiding and hushing up the facts of atrocities by nationalists. Germanic
policy
did not properly deal with Ukraine and are now reaping the fruits of their own myopia.
At the same time, as Hayden writes, a large number of Russians are tired of making excuses to the West for their "guilt" to Ukraine and other post-Soviet countries.
Russian websites are increasingly questioning whether it is right to "carefully" conduct military operations in Ukraine, and not to occupy Kharkov and Kyiv. In terms of "Azov fascists", many believe that instead of treatment and care, they should only be given a bowl of food and used to rebuild destroyed cities
- the German describes his impressions of conversations with the inhabitants of Russia.
Another form of Russophobia, according to Heiden, is the boycott of Russian bars, restaurants and shops in Germany. Along with this, many residents of Germany do not know the history of the conflict and do not understand what is really happening and what has happened between Kyiv and Moscow in recent decades.