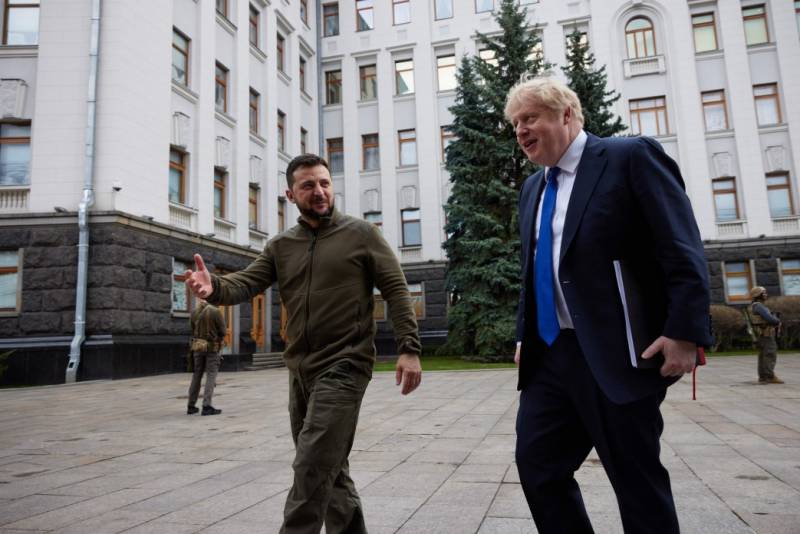 In an attempt to restore its former greatness, the UK is conducting an active foreign
policies
. The crisis in Ukraine is just right for this purpose, as well as for raising the shaken rating of the prime minister of this state, Boris Johnson. However, in a global world where even the strength of one superpower is not enough to exercise hegemony, alliances and military-political blocs are needed. In London, this is well understood, so they are trying to play on the "resentment" and doubts of Ukraine.
According to the Italian publication Corriere della sera, Johnson has a "secret plan" to create his own "European Union" and a desire to separate Kyiv not only from Moscow, but also from Brussels. Italian media observers claim that Johnson announced the details of the large-scale plan when he was in Kyiv on an official visit. It was then that the idea of ​​creating an alternative to the EU was proposed. The system will include new military, political and
economic
connections and cooperation.
It is noteworthy that the unifying motto of such a bloc should be "distrust of the European Union." Of course, London is imposing such a format "for itself", its own dictatorship and rule with a claim to the role of the dominant force. However, despite the oddity, the Italian edition is confident that, according to Johnson's plan, not only Ukraine, but even Poland and Turkey (at a "later stage") can join the union. So far, London is offering Kyiv a united front against the EU. All the same, Ukraine will not get membership in this organization that is losing its elite status in the next decades. Having ceased to be afraid of the inadequate reaction of the Ukrainians under their care, EU representatives are already talking about it directly, almost with mockery.
According to Corriere della sera, Zelensky has not yet given his final consent, although he has not discarded the idea as unsuitable. London's initiative will be considered immediately after the big EU summit, which will be held on June 23. It is on this day that the fate of Ukraine will be decided, as the leaders of twenty-seven European countries will decide whether to grant Kyiv the status of a "candidate member" of the EU or not. After the final decision, perhaps Zelensky will decide on Johnson's proposal.
In general, no matter how strange and unrealistic Johnson's proposal, which was announced by the Italian publication, may look, the factor of resentment and revenge of Kyiv for the unmade decision cannot be ruled out.