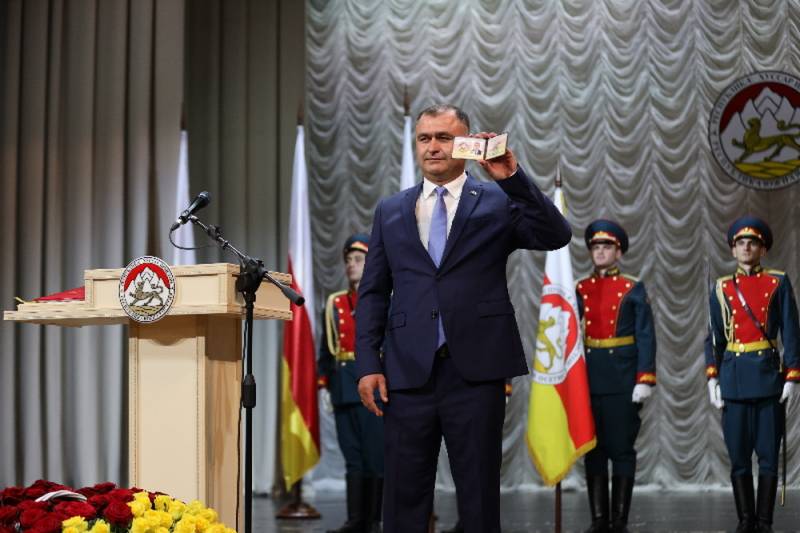 In South Ossetia, there was a "confusion" with the wording of the referendum on the unification of the republic with Russia. The new government in the person of the newly elected president Alan Gagloev intends to cancel the decree of the predecessor as "not corresponding" to reality and the law. This issue, initiated by ex-president Anatoly Bibilov during his election campaign, was raised at a meeting of the incumbent head of state with deputies of the South Ossetian parliament.
The new head of state believes that it is first necessary to change the contradictory wording, hold consultations with Moscow, and then only make some decisions. Gagloev is actually directly hinting that the decree of the former rival in the election campaign was populist and hasty.
This referendum was first announced in a debate, and the wording then and now is very different. As a result, we are not talking about "joining as a subject of the Federation" within the Russian Federation, but about unification. This is completely incorrect
President Gagloev said.
The deputies, before whom the new head of state spoke, agreed with his position and that it was necessary to significantly correct the wording of the decree. However, neither the president nor the deputies mentioned, even purely technically, the adoption of another document to replace the "wrong" one.
Moreover, opinions were voiced that it is generally not worth holding another referendum on a long-resolved issue, since the people of South Ossetia already expressed their opinion about reunification with Russia thirty years ago.
As a result, the question of the referendum itself, as a private one for a more global cause of expressing the will of the people of the republic to join Russia, is mired in debate and debate. One thing is clear that the decree of the previous president will definitely be canceled, the ground for this has been prepared. But it is not clear whether a decision will be made to hold a plebiscite with "corrected" wording.
Gagloev's vague statements look very doubtful, and he himself understands this.
I foresee that they will attribute to me that I am going against the will and desires of my own people, but is this really so?
- said the president, without dispelling doubts.
However, Moscow has already disowned both the referendum and the very idea of ​​even joining, even uniting with South Ossetia. On this occasion, the press secretary of the head of state Dmitry Peskov spoke clearly. He said that Russia does not conduct any activity in this direction.