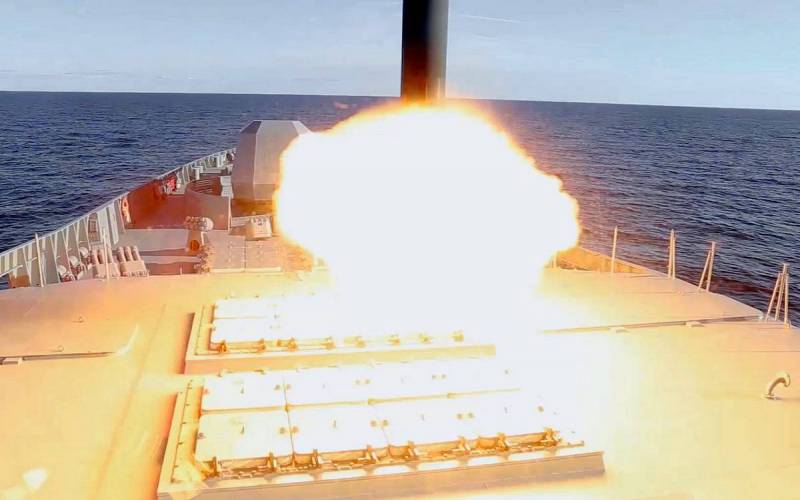 It became known that the multi-purpose frigate "Admiral Gorshkov" (project 22350) of the Northern Fleet of the Russian Navy fired another hypersonic missile "Zirkon" (3M22) from the Barents Sea. On May 28, the Russian Ministry of Defense informed the public about this by publishing a corresponding video.
The agency's communiqué clarifies that the launch of an anti-ship cruise missile was carried out at a sea target located in the White Sea. The event was carried out as part of testing new weapons systems.
According to objective control data, the Zircon hypersonic cruise missile successfully hit a sea target located at a distance of about 1000 km. The flight of a hypersonic missile corresponded to the specified parameters
- says the communique.
It should be noted that the Zircons can be launched from the same launchers of the 3S14 (UKSK) universal shipborne firing systems as the P-800 Onyx and Caliber (3M54) anti-ship missiles. Therefore, in the future, a large number of ships and submarines can become carriers of Zircons, which develop a speed of Mach 9.
In July 2021 years
It revealed
which ship of the Russian Navy will become the first regular carrier of the Zircon missile. In August, a state contract was signed for the supply of Zircons. In October took place
first
launch of Zircon from the nuclear submarine Severodvinsk (project 885 Yasen) of the Northern Fleet of the Russian Navy in the Barents Sea. In December, a successful salvo launch of the Zircons was carried out and information appeared that these cruise missiles for submarines are planned to be put into service in 2025, along with the first regular carrier, the Perm nuclear submarine (project 885M Yasen-M) with a modified design. In January 2022, the State Commission recommended that the Zircon be adopted by ships of the Russian Navy.